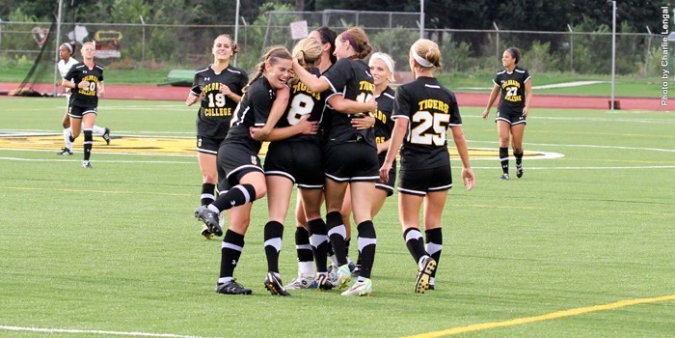 Colorado College was hoping for more good news and got it.
The Tigers, already guaranteed a second consecutive NCAA tournament appearance by virtue of the Conference USA playoff championship they won a little more than 24 hours earlier, learned on Monday afternoon that they will serve as hosts for a first-round contest.
They'll play Duke University, one of eight Atlantic Coast Conference teams selected among the field of 64, in a 1 p.m. MT match on Saturday at Stewart Field.
Ticket prices have been set at $7 for adults, $3 for students with ID, seniors 65 or older and children ages 6-11, and $1 for kids 5 and under.
The winner advances to the second round a week later, meeting either Jacksonville University or the University of Florida.
CC, 15-4-2, is making its 11th appearance overall in the national playoffs and its first at home since 1991. Ironically, it was on the exact same date as Saturday's scheduled game - Nov. 16 - 22 years ago that the Tigers prevailed over visiting Stanford University with a 1-0 sudden-death overtime victory in near blizzard conditions.
That game, which lasted 129 minutes and 52 seconds, remains the longest ever in the history of women's soccer at Colorado College. It also marks the last time the Tigers won an NCAA tournament game, as they dropped a 2-1 decision at the University of Colorado in 2006 and fell 3-1 at the University of Denver last season in two appearances since.
Duke received an at-large bid, its 11th straight and 20th all-time, despite an overall record of 8-8-4. The Blue Devils, who lost 2-0 to Florida State University in the ACC quarterfinals on Nov. 3, advanced to the NCAA Elite Eight a year ago after a reaching the national championship match in 2011.
CC, which reached national championship matches in 1986 and 1989, is 10-10 in 20 all-time NCAA tournament games.
The Tigers, who finished first in C-USA with a 8-1-1 record in conference play, are just the second C-USA regular-season champion in the last 12 year to also claim the league's playoff crown.