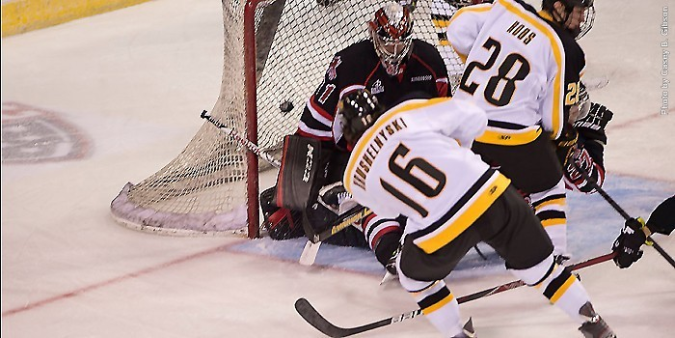 The Tigers came ever so close - 82 seconds to be exact - to logging more than that before ending up in a 1-1 tie with the University of Denver at a sold out World Arena. But it's a point in the National Collegiate Hockey Conference standings, and they'll take it.
The arch-rivals meet in a rematch Saturday at DU's Magness Arena after the visiting Pioneers won a post-overtime shootout, 2-0, in the series opener to pick up an extra point of their own.
"I thought the difference was our inability to make it 2-0 on the power play," said CC head coach Scott Owens, whose team went 0-for-5 with the man advantage including a 52-second five-on-three late in the second period. "We moved well and played a pretty good game on the big sheet. We just didn't close it out."
It was the initial meeting between the teams as members of the NCHC and the first of four regular-season showdowns that will decide which of them hoists the coveted Gold Pan later in the season.
It also turned out to be a battle of senior goaltenders as Colorado College's Josh Thorimbert finished with 25 saves compared to 26 by Denver's Sam Brittain.
Thorimbert protected a 1-0 lead, thanks to a first-period goal by senior left wing Alexander Krushelnyski, until junior defenseman Joey LaLeggia pulled DU even with 1:22 remaining in regulation. LaLeggia and senior blue-line specialist David Makowski also scored in the NCHC's first-ever shootout.
CC, 1-5-1 overall and 1-5-1-0 in league play, spent a good portion of the opening period in the Denver zone, out-shooting the Pioneers by an 11-4 margin, and the hard work paid off late in the frame. With 2:20 left, Krushelnyski tucked home a rebound near the left post after Brittain steered away a shot by junior defenseman Peter Stoykewych from the point. Freshman center Sam Rothstein also assisted on the go-ahead goal.
Denver came to life and launched 10 attempts on target in a scoreless middle frame. Thorimbert made a big stop on freshman Evan Janssen early, another on sophomore Quentin Shore from point-blank range midway through, then got a glove on a redirect by junior Ty Loney late in the period.
Brittain was just as sharp at the other end, keeping the visitors close with a sprawling goalmouth stop on freshman winger Alex Roos with Colorado College holding the two-man advantage. Both goalies robbed opponents from in close during the third stanza before LaLeggia shelved his DU-leading sixth goal of the season from Loney and Shore at 18:38.