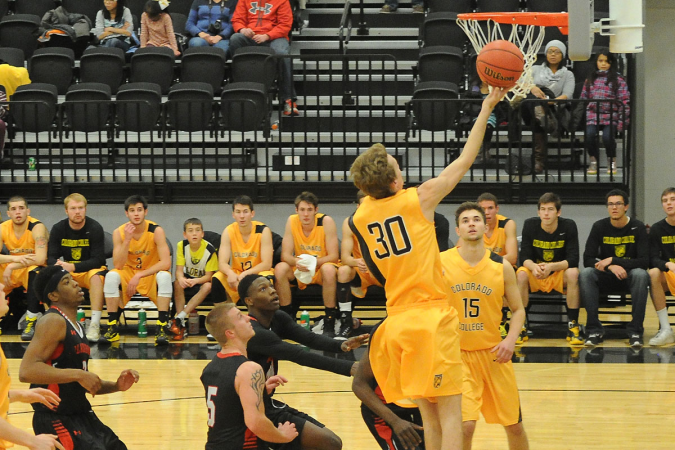 Spectators may have noticed a cub sitting with the Colorado College Tigers men's basketball team. That would be 9-year-old Carter Gates, who will sign a symbolic letter of intent with the team at a ceremonial "draft" event on Tuesday, Dec. 16.
Carter, who is battling cancer and faces another 2½ years of chemotherapy, was paired with the CC men's basketball team through Team Impact, a national organization that matches children with life-threatening or chronic diseases with college athletic teams. The Tigers and their cub will hold the ceremonial signing prior to Tuesday's game at 8 p.m. against Johnson & Wales in Reid Arena in the El Pomar Sports Center, 44 W. Cache La Poudre St.
Forward James Lonergan '16 says Carter has been attending games and practices for about a month. "He's an awesome kid," Lonergan said. "He's a big basketball fan. His sense of excitement is through the roof. It's fun just hanging out with him; just being friends. There's a lighthearted feel about him; he's happy-go-lucky."
Although basketball is what brought the team and Carter together, they also do things off-campus - such as get ice cream at nearby Josh and John's. "It's pretty amazing - this 9-year-old can hold his own with a bunch of 21-year-olds," Lonergan said. "He's wise beyond his years."
Carter also brings a different perspective to the game. "Sometimes you get to practice and you're tired. But what you are doing is his dream. You know you're lucky to be there; to be playing basketball. It makes you play as hard as you can," Lonergan said. "He's a great teammate."