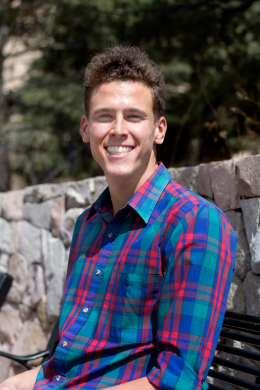 Theo Hooker '18 has been named a member of the 50th Class of Thomas J. Watson Fellows for "Feeding the Earth and Ourselves," a project that will take him to India, Spain, Tanzania, England, and the Netherlands.
"My project centers on the complexity of food systems," says Hooker, a mathematical economics major from Albuquerque, New Mexico.
"My academic interest in sustainable food systems began as a Public Interest Fellow at Groundwork Denver through the Public Interest Fellowship Program (PIFP) after my sophomore year. I continued developing my interest as a volunteer for Colorado Springs Food Rescue by helping the organization with data analysis and organization projects," he says.
Hooker notes that food systems are densely interconnected and complex. "I will explore not just the food itself, but also its ripple effects. I will explore how ecological sustainability, economic viability and cultural traditions intersect within food systems."
This is not the first major award Hooker has received during his Colorado College career. Last fall, Hooker, the goalkeeper for the Colorado College men's soccer team, was named co-Defensive Player of the Year by the Southern Collegiate Athletic Conference, setting a program record for goalkeeping. Hooker, who landed a spot on the first team for the second year in a row, has earned all-SCAC honors four times. He also was a two-time second-team selection, including his freshman season when he was named the league's Newcomer of the Year.
While at CC, he also spent a semester abroad in Chile, taking courses in Latin American film and literature, and socio-political history. After the courses ended, he spent two months working on a variety of local farms throughout Chile.
This year's Watson Fellows class hails from eight countries and 17 states. From the program's 40 participating institutions, 152 finalists were nominated to compete on the national level, from which 40 fellows were selected. Fellows receive $30,000 for 12 months of travel and college loan assistance as needed.
"From my Watson year, I hope to better understand others' perception of sustainability and the ways it interacts economically and socially to help foster sustainable food systems in my community," Hooker says.
He is among this year's fellows who will travel to 67 countries exploring topics ranging from foster care to opera; from the Cambrian Explosion to human augmentation; from threatened big cat species to spoken word.
"This year we celebrate a half century of investing in remarkable students and the vivid value that has been provided by the program over five decades," says Chris Kasabach, executive director of the Watson Foundation. "Watson Fellows have gone on to argue America's most influential education legislation before the US Supreme Court, reinvent affordable housing, journalism, Broadway, contemporary music, computing and data science, and change how we think about the earth's formation. The importance of investing in young leaders has only grown over the last fifty years and we are thrilled by the aspirations, courage and creativity of this landmark class."