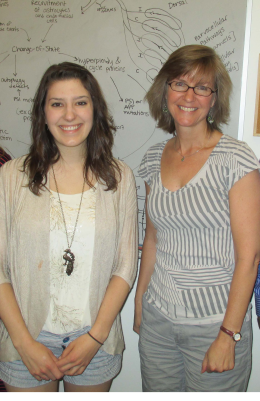 Students who were told they got a good night's sleep - even if they didn't - performed better on tests measuring their attention and memory skills than those who thought they slept poorly, according to a study by CC graduate Christina Draganich '12 and Colorado College Psychology Professor Kristi Erdal.

A paper about the study, "Placebo Sleep Affects Cognitive Functioning," was published in the Journal of Experimental Psychology: Learning, Memory and Cognition. The study was based on two experiments with 164 students that Draganich did for her senior thesis in neuroscience. The research has been picked up widely by media, including The Independent in the United Kingdom, The Atlantic, and Good Morning America, among others.

Draganich devised an elaborate ruse in which students were told that a new technique - which doesn't actually exist - could measure their sleep quality from the night before. They were connected to a machine that measured brainwave frequency and shown dense spreadsheets and formulas. Some were informed that their deep, or REM, sleep had been above average the night before, a sign that they were mentally alert.

Others were told their REM sleep from the night before had been below average. Students in both groups got a five-minute lesson on sleep quality and its importance to cognitive functioning.

The students who thought they got a good night's sleep performed significantly better on real tests that assessed their ability to listen and process information.

"I've always been quite interested in sleep perception," said Draganich, who is applying to medical school. "Throughout college, sleep was a very hot topic among college students."

It's unusual for a paper written by an undergraduate to be published in a prominent journal, Erdal noted. "What it speaks to is that students' ideas are that good at Colorado College," Erdal said. In Erdal's 18 years at CC, Draganich is the fourth of her students to publish in prominent journals.

Draganich's ideas for the study percolated over her four years at CC, starting with her reading about the placebo effect in Erdal's Introduction to Psychology class. Erdal's role was to make sure the study was properly done and that nothing extraneous could explain the results.

In the study, what the students were told about their sleep is known as "placebo sleep." The effect of that information was a placebo effect, which has to do with the person's mindset regarding his or her treatment.

Studies of placebo effects have often focused on pharmaceutical drugs, as when taking a harmless sugar pill results in a patient overcoming pain, for example. In contrast, Draganich's study is part of a growing area of study of certain aspects of daily life, and the importance of perception and the brain's role in health. Such studies have suggested that a doctor's confidence in a treatment could have an effect on the results, and that a patient's attitude could also affect treatment.

Draganich, who works at Craig Hospital in Denver with patients who have spinal cord and brain injuries, said she's noticed that doctors she works with who frame treatment in a positive light seem to have a great deal of success with patients. "It's an important tool to have as a physician," said Draganich, who is applying to medical school and wants to be a doctor.

As soon as a student finished the experiment, he or she was told that the test of REM sleep was fake, a provision required by ethics considerations and the college's institutional review board. "I got a shocked response from the students," Draganich said. "Some believed in the study so much and wanted to know more about their sleep habits."

Only six students had expressed any doubts about the fake test. Even they were convinced by a complicated algorithm she performed on a computer set up in the experiment room, diagrams on the wall and a general aura of complex science at work.

"It was quite a scene," she laughed.

The study is posted in the Online First Publication section of the Journal of Experimental Psychology: Learning, Memory and Cognition website and will soon be available in print.