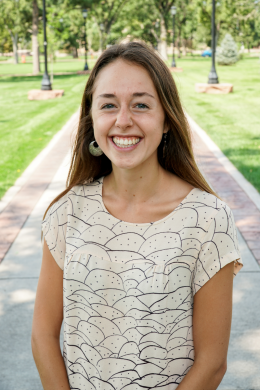 Camilla Fuller '19
Major: Sociology
Minor: Education
How my decision to take an extended format education class has been the most meaningful part of my time at CC.
On day one at CC we were told "you have to find a way to engage with the Colorado Springs community." As a very involved high school student who focused my time outside of class on service work, I thought, "no problem I am good at getting involved in life off campus!" Then, my CC life began. Imagine, a 9-12 class, followed with exciting reading, club fairs, intermural soccer games, social activities, speakers and more. I fell in love with CC campus culture and the way I was constantly rushing from activity to activity. I did, however, find myself missing aspects of my high school life, but I couldn't identify what exactly it was. My Sophomore year I studied abroad in Nepal for a semester studying Nepali language and empowerment through education. Taking a step away from CC life really helped me reflect on how I was spending my time at CC. I realized, that I was doing exactly what we were warned against doing, staying only within the CC bubble. This needed to change.
I knew that there were ways I could explore my passion of education in a tangible way in the Colorado Springs community. During half block my junior year I took a course called Youth Empowerment in the Neoliberal Age. This class was designed to train us to be effective Public Achievement (PA) coaches so that we could help students at a local high school, Mitchell High School, develop projects for change in their communities. The class was an examination of youth engagement and the power of citizenship within underserved communities.
The CC students in Youth Empowerment in the Neoliberal Age were dedicated to understanding alternative education avenues for empowerment. My decision to take this course was an attempt to acquire skills that will help me delve deeper into my personal commitment to this subject, with people who were equally passionate. I recognize that everyone in the course decided to take part in Public Achievement for different reasons and I believe this is what made our group powerful. During the half block, I was energized by the discussion on Reality Pedagogy, which is multicultural education pedagogical theory. My classmates understood the importance of validating the complexity of the individual, lived experience of the high students. We were prepared to enter Mitchell and to meet our students on their own cultural and emotional space. It was powerful to learn how to admit that we are not the experts in PA work, Mitchell or even Colorado Springs. Showing our vulnerability was key to building relationships at Mitchell. As PA coaches we were vulnerable when working with Mitchell students by being active listeners who validated the knowledge the students brought to the group. As a PA class we were vulnerable with each other, always willing to hear other group's ideas and wanting to make our individual lessons better.
I feel very fortunate for this class because it taught me a lot about the significance of different forms of community. One very important community was that of my small group of co-coaches. Our group of three co-coaches worked with seven high school students and we had to overcome challenging and emotional issues. I am so proud of how the three of us were innovative and flexible and knew when one of us had to take control. The most defining challenge our group faced was deciding on a project that satisfied all members of the group. Personally, the hardest aspect of PA was navigating feelings. I become very emotional when I work with others and so I feel an extreme amount of responsibility for things to go smoothly, so to not let anyone down. Through choosing a project, I learned the importance of honest communication and the difficult skill of accepting that sometimes it isn't possible to make everyone happy. Additionally, learning to capitalize on individual strengths to divide up work in the most efficient way, is a tool I will remember for future work. I am confident that throughout this semester, my co-co-coaches and I have embraced something fundamental to education, being okay with being uncomfortable.
The other powerful community was that of local high school students. As PA coaches we had the privilege of working with students at Mitchell High School on issues that matter to them. One challenge in the world is the way that negative stereotypes hold communities of people back, and I am proud to have be in a group that wanted to address this. All the students in our group understood that the negative perception of their high school is a problem, and they all had different ways they wanted to address it. This process was powerful because I think it helped the students understand the importance of compromise when tackling issues that are emotional and not straightforward. When we did ultimately decide on a project it was incredible to watch the students take responsibility for their work in and out of class. This goes to show that being proud of a collaborative mission is motivating. It was a challenge to remember that the goal of PA work is twofold in that the students are gaining powerful skills in addition to helping shift the perception of Mitchell. Through the process of coming up with a project, our group made great strides in understanding that our project will be meaningful if it can leave a legacy for future Mitchell students. It was this realization, of looking beyond oneself that I hope the students will remember because I think this will help the students be successful agents of change as they work on future threats in our world.
My decision to take Youth Empowerment in the Neoliberal Age was the most meaningful part of my CC career so far. I sincerely hope CC continues to partner with Mitchell for future PA work. I believe this program holds massive potential for a collaborative relationship. Mitchell would benefit from a lasting relationship with its neighboring college, and CC has a lot to learn from the passion and strength of Mitchell students. Through engaging outside of the CC bubble, I have realized the full extent of my desire to work as an educator as a way to be an agent of change and encourage young people to be as well. I am beyond thankful for this experience.