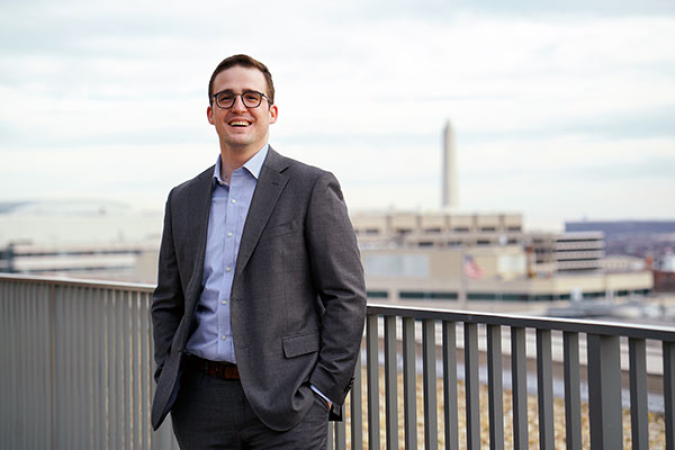 Antonio Skarica '12 remembers the day as clearly as yesterday.

"It was one of the happiest days of my life," Skarica says. "I was on a Spring Break service trip in New Orleans when I found out."

The news came via e-mail with two items: an admission letter from Colorado College and a Davis United World College scholarship statement.

"I immediately called my family over a particularly spotty Skype connection, yelling, 'I got in, on a full scholarship'."

Skarica is recalling that memorable day from his office at International Finance Corporation, an investment, advisory, and asset-management firm in Washington, D.C., that is part of the World Bank Group. His work there helps shape the world into a better place. As a global economics and strategy analyst, he brings development and opportunities to the people of Latin America.

It's an impressive position and he's quick to link his career success back to his time at CC and that scholarship. "My job is essentially a professional application of my degree," says Skarica, who graduated with a bachelor of arts in international political economy. "At CC I picked up both the understanding of the main concepts plus many relevant technical skills like statistical analysis and research."

During his time at the college, Skarica completed summer research on international energy security and a project on consumer ethnocentrism focused on Bosnia and Herzegovina.

And he adds that scholarship - a combination of a Davis United World College Fellowship and an international student grant, which covered tuition and living expenses - was a true game-changer.

"I wouldn't have been able to attend without it," he says. "The scholarship was also a source of inspiration because the college recognized my potential and entrusted me with all these resources. That made me even more committed to taking full advantage of all the opportunities the college had to offer."

Looking back, Skarica says he believes CC and his scholarship helped open the world for him. And now it's all about using what he learned to do what he can to improve that world.