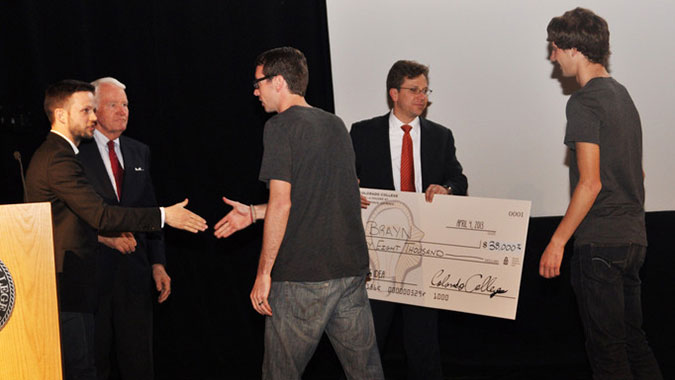 Three Colorado College student teams will share a $50,000 prize in the college's entrepreneurship competition, The Big Idea. CC announced the winners April 4 during a combination pitch session and award ceremony in the Richard F. Celeste Theatre at the Edith Kinney Gaylord Cornerstone Arts Center.
In January, CC launched The Big Idea, in which students presented their entrepreneurial proposals to a judging panel in hopes of winning $50,000 to launch their venture. Twenty-eight teams submitted proposals.
In first place, winning $38,000, was Trevor Barron's and Jesse Marble's team, Brayn. Brayn's goal was to create the world's first pocket EEG (brain monitoring) platform; they impressed the judges by demonstrating a working prototype at Thursday's event. Their product would allow people with epilepsy to track, manage, and eventually predict their epilepsy events using their smartphone and an unobtrusive scalp monitor. 
Second place, along with $10,000, went to Francisco Castro's team, Artizan of the Andes. This project aims to create luxury accessories from traditional handicrafts and products. Castro plans to assist marginalized rural populations of Ecuador by creating a market and incentivizing producers with technical and creative assistance to produce high-quality handicraft products.
Winning third place and $2,000, was City Roots, a team made up of Fredrik Lindseth, Jeremy Harlam, and Sara Birmingham. City Roots plans to sell fresh, local, healthy fish and produce using aquaponics, the farming of both fish and produce in a closed system that they say will lower cost and increase yield.
To be eligible, a Big Idea business proposal had to be the original idea of the student applicant, as well as a new, student-generated business that demonstrated innovative thinking or approaches in any subject area or industry.
For more information and to see the ideas of the competing teams, go to: http://www.coloradocollege.edu/other/bigidea/