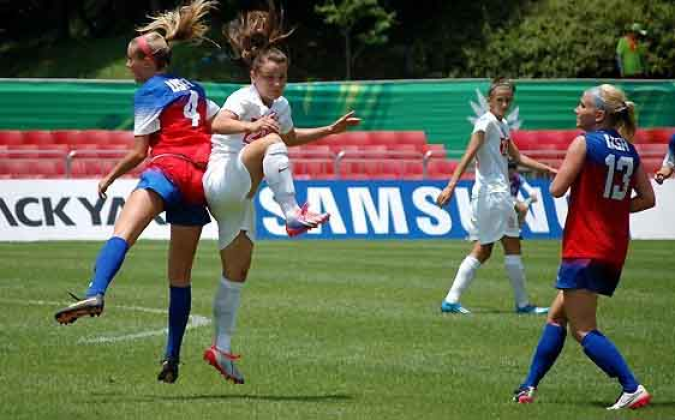 The United States went toe-to-toe with a talented Poland side on Friday, but dropped a 2-1 decision under sultry conditions at the Honam University Football Field in Gwangju, South Korea.

Team USA leveled the score in the 54th minute when Jennifer Stoot '15 found the net on a header off a long feed from the right flank by Sarah Haizlip '14.

Goalkeeper Rowan Frederiksen '18 kept the scored tied in the 61st minute when she made a diving save on a drive from the right side by Nikol Kaletka, The Americans nearly took the lead two minutes later on a shot by Rachel Herron '15, but goalkeeper Anna Palinska steered it wide of the opposite post.
Fredrickson came up big in the 66th minute when she made a diving fingertip save to guide Dominika Deren's shot off the post.

Poland struck for the game winner seven minutes later when Anna Zapala converted on a low cross from the left wing by placing on shot just under the crossbar.

Team USA had several chances during the final 20 minutes. Incoming student Lauren Milliet '19 was ruled offside in the 85th minute, and Jessie Ayers '15 saw her shot from inside of the box sail over the bar off an indirect free kick in the second minute of stoppage time.

Linda Dudek gave Poland a 1-0 a little more than one minute into the game when she chipped the ball over Frederiksen and finished into an open net.

Poland finished with a 12-9 advantage in total shots and a 6-5 edge in corner kicks.

Team USA will play either Chinese Taipei or Mexico in its final game on Sunday, July 12, at 11 a.m. local time, Saturday, July 11, at 8 p.m. MT.

Follow the team on Facebook, Twitter and Instagram using #CCTeamUSA.