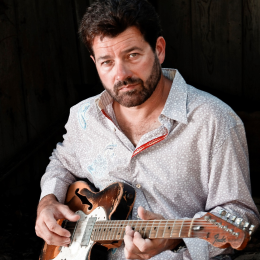 Blues Under the Bridge kicks off at 1:30 p.m., Saturday, July 13, with headliner Tab Benoit taking the stage 8:30 p.m. The day-long blues festival, a signature Colorado Springs event held under the bridge at 218 W. Colorado Ave., attracts fans from all over the greater Southwest area.
Benoit, who won the B.B. King Entertainer of the Year award in 2007 and 2012, was inducted into the Louisiana Music Hall of Fame in 2010. His playing combines a number of blues styles, primarily Delta blues. Benoit is a three-time Grammy-nominated and four-time Blues Music Awards "Entertainer of the Year" winner.

"The Louisianan's aggressive approach to his instrument has honed it to near splinters. He plays it so hot that it could be used to boil a pot of crawfish," wrote music critic Tim Parsons.
Also featured on stage is Nikki Hill. Hill's 2018 tour included Montreux Jazz Festival, Monterey Jazz Festival, Byron Bay Blue Festival and more. Other artists include the Selwyn Birchwood Band, the Hector Anchondo Band, and Crystal and the Curious.
Additional festival features are a silent auction tent to benefit 91.5 KRCC, Bristol Brewing craft beer, wine and spirits, and favorite local food vendors, community sponsors, and vendors.
Blues Under the Bridge schedule:
1 p.m.: Gates open
1:30 - 3 p.m.: Crystal and the Curious
3:15 - 4:45 p.m.: Hector Anchondo Band
5 - 6:30 p.m.: Selwn Birchwood Band
6:45 - 8:15 p.m.: Nikki Hill
8:30 - 10 p.m.: Tab Benoit
The premier blues festival, now in its 13th year, is a production of 91.5 KRCC, Colorado College's NPR-member station. More information and ticket availability.