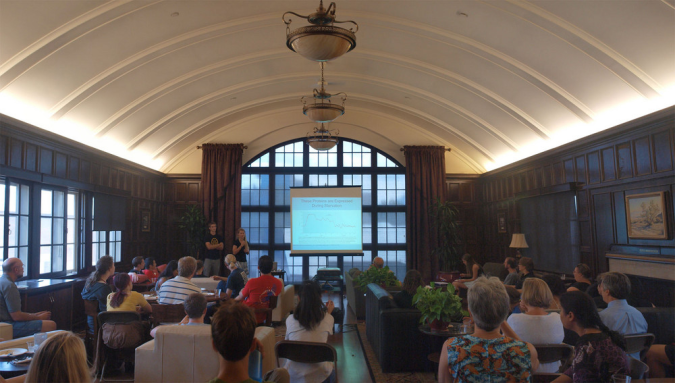 By Ellie Nesbit '14
As a political science major who has a slight aversion to the hard sciences, my time in Barnes Science Center my first three years at CC consisted of grabbing snacks from the Anthropology Department on break.

So I felt a little out of place as I entered Barnes this past July to begin photographing the summer science research that was being carried out by a dedicated group of 56 Colorado College students and 18 members of the natural science faculty.

These students had received internal grants from CC to conduct research alongside their professors this summer on campus and in the field.

Despite my lack of knowledge in the subjects, I could not help but catch the students' excitement as each one enthusiastically explained the research they had been conducting all summer, everyone eager to show me the newest microscopes and equipment they were using.

I was even lucky enough to shadow the students working with Environmental Science Associate Professor Miro Kummel for an entire day of fieldwork on Pikes Peak. They patiently and expertly answered all of my questions on meteorological towers and moving tree lines.

After sitting in on one of the weekly lunches where students presented their research, I was impressed at the wide range of subjects being tackled; everything from mosquitos, ancient coins, proteins, and sensory neurons were being investigated.