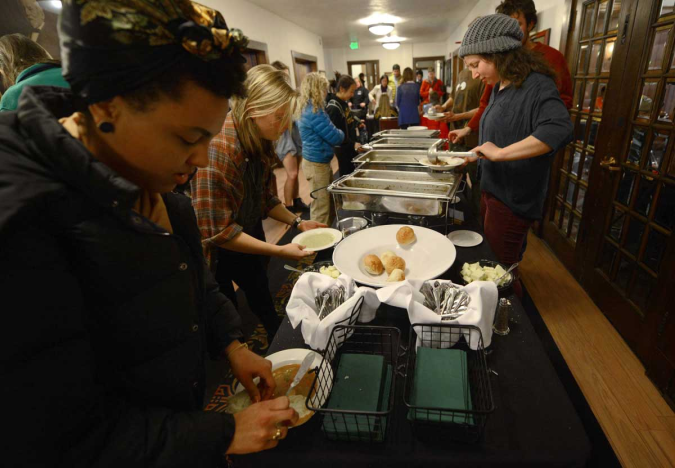 Four teams of Colorado College students presented proposals at CC's Soup Project Challenge, seeking innovative and long-term solutions to the problems of food insecurity, homelessness, and chronic poverty. The Soup Project, a collaboration between CC's Food Coalition and the Arts for Social Change Coalition, seeks to build on the Community Kitchen's 23-year legacy of working to address the needs of the local community.

The challenge was held at CC's annual Empty Bowls event, which raises awareness of hunger and homelessness in the community. "Colorado College has made a commitment to addressing these issues in innovative ways that are grounded in community need and have solid partnerships with organizations doing this important work," said David Harker, director of CC's Collaborative for Community Engagement. "We are committed to supporting these ideas and projects so they grow and flourish in the future."
The initial $20,000 allocated to fund the student-designed social innovation projects jumped to $40,000 through the generosity of a CC trustee who was impressed with the students' passion, creativity, and resourcefulness in working with existing community partners to tackle the issues in a meaningful and sustainable way.
"The Soup Project Challenge represents the kind of innovative problem-solving that is the hallmark of what CC students can do," said Colorado College President Jill Tiefenthaler. "Our students experience 'learning while doing' on our unique Block Plan, and the Innovation Institute adds helpful resources for our students to put their thinking to work in the real world, with real impact."
The CC teams and their projects are:
Grits, a proposal submitted by Paige Clark '16, Ben Criswell '16, and Caitlin Canty '16 was awarded $13,000. The students will partner with the Marian House to run a weekly writing and visual arts program for their patrons. The workshops will culminate in a publication titled Grits that will be included as an insert in the Colorado Springs Independent, a weekly newspaper in Colorado Springs. The published pieces also will be featured in installments on KRCC, Colorado College's NPR-member radio station, in art exhibits both on campus and in the community, and in a permanent archive space in the CC library so that students and faculty have access to primary sources for research on homelessness, poverty, and hunger. The Grits organizers say "We will work to empower and document the voices of these particular citizens of Colorado Springs in order to make them more visible to those in our community who have more resources, all in an attempt to stop the systematic silencing and rejection of our city's most vulnerable people."
Mobile Meals, submitted by Sophie Javna '16, Andy Post '16, Jonah Goldman '15, and Ben Feldman '15, was awarded $12,000. Mobile Meals aims to partner with organizations such as the Flying Carrot, Colorado Springs Food Rescue, and Seeds Community Café to bring healthy food and educational programs to communities in need. They hope to synthesize and ultimately enhance the programs of the local organizations by providing a free meal and developing food education programs for low-income, low-access communities. They will begin their outreach at the Hillside Community Center, using The Local, a food truck owned by the Seeds Community Café, to cook and transport free meals to the center. The group also plans cooking classes and community gardening programs.
Ponderosa Pastries, submitted by Kyra Wolf '17, Madeline Lee '17, and Claire Vernon '17, received $9,000. Ponderosa Pastries envisions partnering with Seeds Community Café to create a student-run café that connects students and the community through food and art. The Ponderosa Pastries program will build on the existing programs at Seeds Community Café: Ponderosa Pastries will use the Seeds space in the evenings for baking and arts programs, and in return will write grants for the "pay-what-you-can" café. The Ponderosa Café will be a space for creativity, sharing stories, education, and activism, with a major component of the project being building skills for students and fostering student leadership. The organizers note that there are opportunities to collaborate with CC groups such as the Queer Community Coalition, Feminist Coalition, Black Student Union, and Carnivore Club for arts projects and events.
The Family Day Center, submitted by Siena Faughnan '18, Sierra Wilbar '18, and Taylor Wright '18, received $7,000. The students' goal is to create both short- and long-term solutions for families experiencing homelessness by providing a safe, community-based space and support system responsive to the unique needs of homeless families, who often are not comfortable going to more general resource centers because of safety concerns. Working with Family Promise, the students envision an all-inclusive space that provides families access to a variety of services without trips to multiple agencies throughout the city. The space would include access to showers, bathrooms, computers, an area for children, a homework and tutoring center, as well as a mailing address and storage space. The initiative includes innovative student-run programming that provides resources and job-centered education, with CC students developing and implementing programming such as resume building and personal finance training.
"I am excited see these great ideas in action," Tiefenthaler said.

Judges for the challenge, which was held in early March in CC's Bemis Great Hall, were Victoria Stone, vice chair of the Pikes Peak Justice and Peace Commission and Minority Family Advocate at Mission Possible; David Coffey '96, executive director of Recovery Café in Seattle, Washington, and a founding member of the CC Community Kitchen; and Heather Carroll '89, president and executive director of The Joseph Henry Edmondson Foundation and a member of CC's Board of Trustees.