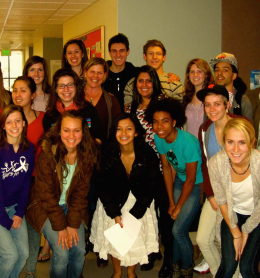 Anthropology Professor Sarah Hautzinger and students in her Block 4 class, "Women, Men, and 'Others': Gender Diversity Cross-Culturally," interviewed 59 people about how they came to have last names that are nontraditional in North America. With this academic and community-based learning project, they're hoping for a wide-ranging conversation on their new website.

Consider the humble hyphen and the chaos it can sow.

Jane Doe and John Roe get married. Jane, a child of the sixties, keeps her name, and they give their first child a hyphenated last name: Amanda Doe-Roe. Amanda grows up and marries Sally Henderson-Smith. So does their child get to be Joey Henderson-Smith-Doe-Roe? Or do they figure out some creative combination, dropping the pesky hyphen: Joey Hensmidoro?

Then consider how the hyphen's absence can roil the social waters.

Hautzinger and Tim Ferguson decide to give their first child both last names, without a hyphen: Marley Ferguson Hautzinger. A hyphen would make a re-hyphenated name too long and unsustainable over several generations, they think. And surely, if a choice were to be made, everyone would go with "Ferguson" as a last name, the young couple imagines in their post-partum fog.

Yet chaos ensues. Teachers insert a hyphen, over the child's objection. School administrators, reluctant to just choose the final name, "Hautzinger," because it's not the father's last name, struggle to keep both last names on forms and paperwork. More pointedly, Marley insists on using both names, eliciting a librarian's wrath when she shortens her signature to "Marley FH." Likewise, her equally strong-willed younger sister objects when anyone else tries to hyphenate, truncate, or otherwise trespass on her two last names.