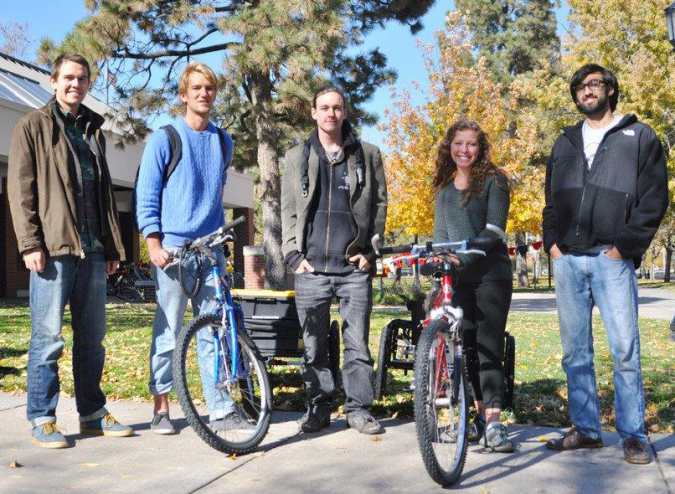 A group of Colorado College students is tackling the hunger problem - one bite, one bike, one baguette at a time. And you can help: A benefit to raise funds for the Colorado Springs Food Rescue, a nonprofit founded by CC students, will be held at 6 p.m., Friday, Jan. 24 at the Manitou Art Center, 515 Manitou Ave. Tickets are $20 for KRCC members; $25 for non-members.

The proceeds will be used to purchase trailers, bikes, bike locks, operational equipment such as food trays, thermometers, thermal bags, scales, and freezers, as well as providing for the maintenance of the items. The proceeds also will be used to replace equipment: In December two trailers and two bikes were stolen from outside Rastall, setting the group back approximately $700. "It is irony of the grimmest variety: The same poverty we are struggling to fight is most likely what drove the people behind this to commit an act that hinders our ability to help solve that very problem," said co-founder Shane Lory '16.

The Colorado Springs Food Rescue was started by a small group of students, led by Lory, John Orrell '16, and Sanjay Roberts '16 early in the fall of 2013, and the fruits of their labor already are apparent.

The students began by delivering unused food from Rastall Hall to the Marion House, a few blocks from campus. In two days they collected and delivered - by bike, to help keep the carbon footprint down - more than 90 pounds of food. Now, more than 30 students regularly volunteer to bike the food donated not only from Rastall, but also five restaurants and a grocery store, to Springs Rescue and the Marion House. More than 3,000 pounds of food has been delivered to date.

The Colorado Springs Food Rescue students also urged Bon Appetit, Colorado College's food service provider, to adopt changes to their corporate policy. They were successful in bringing about national changes: Bon Appetit now allows the donation of self-serve food items in states where it is legally permissible. The policy change means that food items such as those in a dining hall buffet can be donated to hunger relief efforts.

"We are grateful for the students' initiative and willingness to work through this issue with us; it is a true testament to the power students have to change the food system," said Claire Cummings, waste specialist with Bon Appétit Management Company Foundation.

The benefit for Colorado Springs Food Rescue will feature a variety of foods including Colorado-inspired tapas, poetry, and music by The Raisins, Room 46, and Nick Daley. The event is sponsored by the Smokebrush Foundation, KRCC, Colorado College's NPR-member station, Poor Richard's, Whole Foods, Callicrate Beef, and the Bristol Brewing Company.