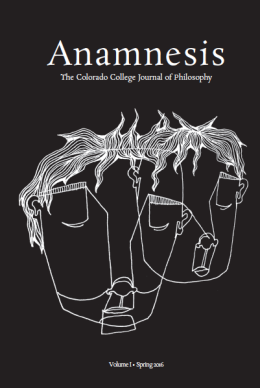 By Montana Bass '18
If you haven't grabbed a hard copy already, check out Anamnesis, CC's first student-edited philosophy journal, currently available online.
Willow Mindich '16 first conceived the idea for Anamnesis while she was exploring opportunities for careers in her philosophy major after graduation. After noticing some other undergraduate schools had philosophy publications, she took the idea to her advisor, Rick Furtak, professor of philosophy. With help from him, the Cutler Board of Publication, and an editorial team consisting of Bowen Malcolm '16, Thomas Roberts '17, and Tess Gruenberg '17, Mindich received multiple grants to launch Anamnesis.
The first issue, published in April, is made up of an interview with Shaun Nichols, a visiting speaker from CC's Philosophy Colloquium Series and a philosophy professor at the University of Arizona, and two essays chosen from 33 submissions, one from CC student Andrew Scherffius '17 and another from Cal Poly student Regina Hurley. It also features art by CC student Morgan Bak '16. Essays for Anamnesis are chosen via a blind review process by an editorial board made up of 16 CC students.
In publishing Anamnesis, the team hopes to make philosophical discussion more accessible on CC's campus. "Part of this is having a venue for students to discuss philosophical ideas outside of the classroom," says Malcolm. They named the journal with this goal in mind. "Anamnesis is a term that comes from Platonic philosophy. For Plato, learning is unforgetting certain truths that our souls are naturally in contact with, but that we forget by virtue of being human," Roberts explains. "Essentially, anamnesis is learning through rediscovery," says Mindich.
Learning through rediscovery is exactly what they hope Anamnesis will prompt CC students to do with philosophy. "We love philosophy because it can do so much and function in different disciplines," says Gruenberg, "We wanted to make that known on campus, have it seem less abstract and more tangible to people who aren't necessarily (philosophy) majors." Presenting philosophical discussion in a tangible, unintimidating manner is at the core of the team's goals and is the reason why they plan on continuing the journal's current make-up of two philosophy majors and two non-majors as editors.
"I'm proud of all the students involved in creating our new journal, Anamnesis, and especially of Willow for being the visionary who made this idea into a reality," says Furtak. "Already by the end of her junior year last spring, she had made extensive efforts to learn about the practical aspects of editing a philosophy journal, including the selection process and so forth. This is just how it ought to be here at CC, by contrast to other schools at which undergraduate journals are mainly under the control of the faculty. Here, it has been a genuinely student-driven project, which is remarkable although not at all surprising to those of us who are acquainted with the creative spirit of our students."
With its intriguing ideas and the fascinating art bringing them to life, Anamnesis certainly accomplishes these goals and promises to continue to do so into the future.