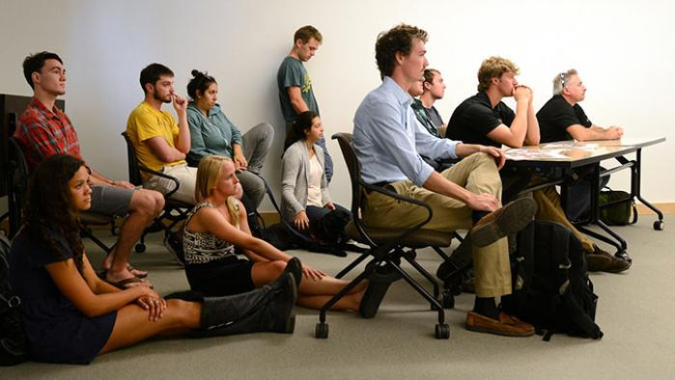 By Laurie Laker '12

The Edith Kinney Cornerstone Arts Center played host to more than 100 members of the Colorado College community on Sept. 15, as they viewed presentations and poster sessions from CC students and their faculty supervisors. The Summer Undergraduate Research Symposium was the culminating event after months of undergraduate collaborative research conducted by Colorado College students.

"It was so wonderful to see the enthusiasm in the students as they presented their work from this past summer," said Lyrae Williams, assistant vice president for institutional planning and effectiveness.

The symposium brought students and faculty together for a series of short presentations, poster sessions, and community discussion across a variety of academic disciplines. One exemplary presentation was that of history major Erik Laitos '15, who worked with History Professor Susan Ashley on research titled "Deviance in the Fin-de-Siecle: Misfits and Sexual Inverts." The culmination of a summer's work, the presentation by Laitos combined Ashley's research into medical analyses, diagnoses, and treatments of "misfits" in the late-19th century with his own manuscript review, revision, and bibliographic assistance.

Poster sessions were as varied as the presentations, with topics such as Anaerobic Capacity Testing, African Sleep Sickness, and research into George Gershwin's "Rhapsody in Blue."

Williams said she was "taken by the buzz of energy in the main space of Cornerstone from the excitement of the poster presentations and the previous oral presentations.  I only wish I could have talked to every student who had participated in the project this summer."

The summer of student and faculty collaborative research was funded by the Faculty Student Collaborative Grant and the Andrew W. Mellon Foundation Grant. The Andrew W. Mellon Foundation through its $800,000 grant to the college provides for 10 stipends to students for summer undergraduate research fellowships in the humanities and humanistic social sciences. The symposium was funded by the President's Office and the Dean's Office. See the symposium program and research abstracts here.