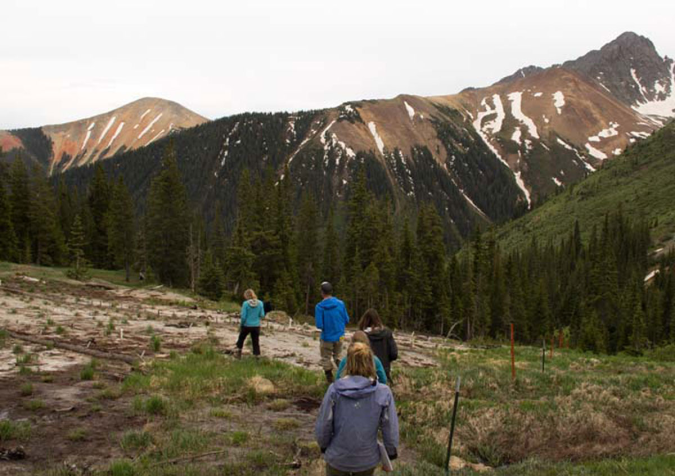 Five Colorado College State of the Rockies Project student researchers are in the field this summer, studying and comparing issues of river governance and river management.
Joseph Friedland '17, Emelie Frojen '17, Lea Linse '17, Mollie Podmore '17, and Amy Rawn '17, along with Program Coordinator Jonah Seifer '16 and Associate Director Brendan Boepple '11, are working in two of the West's largest river basins, the Colorado River Basin and the Columbia River Basin. The focus of the 2016-17 State of the Rockies is "Inclusive River Governance in a Changing West," with the core this year's project being a comparative study of water issues in the Southwest vs. Northwest,
The State of the Rockies Project research team recently spent four days in Silverton and Durango, Colorado, where they examined how governance systems allow for the incorporation of traditionally under-represented values in water management. These issues are particularly important in an increasingly water-stressed future, affected by climate change and growing populations throughout the West.
"We were fortunate to meet with a diverse set of stakeholders involved with the Animas River on the trip, and were also able to sit in on a meeting of the Animas River Stakeholders Group, the local watershed group that has been working to address the region's mining legacy for the last 20-plus years," says Boepple, who has been with the project for five years.

"The trip not only allowed the students to further their research and see some of these important issues firsthand, but it also allowed them to see how actual management decisions are made," says Boepple. "Additionally, the Gold King Mine spill, which occurred last August, provided an interesting backdrop to conversations and research discussions about the Animas River and its management."
While in Silverton, the team visited the Mountain Studies Institute, which conducts scientific research and environmental restoration in the area, and emphasizes the need for communicating that research to a wide audience in the San Juan Mountains region. Boepple says they have some of the most complete data on the Animas River before, during, and after the Gold King Mine spill, and have been sharing that information with the local community to help residents understand the impact of the spill.
The State of the Rockies team will head next to the Pacific Northwest, where they will spend two weeks researching tribal water issues, the debates surrounding regional dam deconstruction, and the important role that salmon play in the management of the Columbia River system.
This summer's research will be published in the 2017 State of the Rockies Report, due out in the spring.