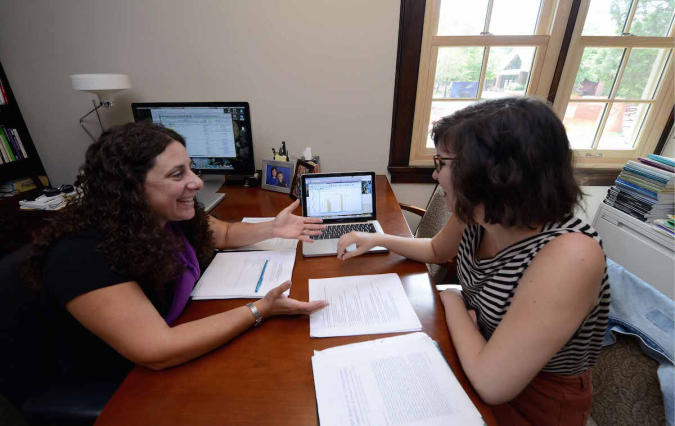 Han Sayles '15, a comparative literature major at Colorado College with a focus in Feminist and Gender Studies and a minor in Spanish, is working with Maytag Professor of Comparative Literature Corinne Scheiner on the 2014 Report on the Undergraduate Comparative Literature Curriculum. The report, an update on a 2005 report commissioned by the Association of Departments and Programs of Comparative Literature (ADPCL) and the American Comparative Literature Association (ACLA), collects data on the number of formal undergraduate programs that grant a bachelor of arts in comparative literature and on the structure of the major and the minor. It also examines three major issues and their effects on the undergraduate curriculum:
The institutional location of comparative literature
The rise of Global Studies
The rise of Visual Studies, Film Studies, and New Media Studies
The research project has been rewarding beyond what Sayles imagined. "I'm interested in the questions being asked, but also I'm learning new skills. I'm taking raw data and interpreting it; finding meaning in numbers and learning how to do statistical analysis," she said.

Scheiner said comparative literature often is thought of as a graduate discipline, given that it requires a high level of proficiency in multiple languages. In fact, many question whether it is possible to teach comparative literature at the undergraduate level without it becoming simply "world literature in translation," she said. The 2005 report was the first attempt in more than 30 years to study the undergraduate comparative literature curricula at different institutions.

Scheiner wanted to work with undergraduate student researchers on the project for a variety of reasons: Given that the report examines undergraduate curricula, Scheiner wanted to have the report come out of an undergraduate institution; she wanted to demonstrate that the students were capable of doing a high level of work; and she wanted to show that a liberal arts college was capable of supporting such a project.

"Working with undergraduates as research assistants, particularly at an institution like Colorado College, necessitates our thinking about them not as working solely or primarily with content, but also applying the skills they have learned as part of their liberal arts education to any project on which they work," she said.

"It's been eye-opening," Sayles said. "I'm finding that precision in writing translates to data skills I didn't realize I had."

Sayles will accompany Scheiner to annual meeting of the American Comparative Literature Association in March, where Sayles will present the report's findings. By the time she graduates in May, Sayles, co-editor-in-chief of the Cipher, a student alternative news magazine, co-manager of the SOCC, a student radio station, and an assistant producer at KRCC, Colorado College's NPR-member station, will have a scholarly report and national convention presentation to her credit.

"The most rewarding part is showing off our students and showing what they can do," Scheiner said. "The best thing I can do is let our students stand up in front of a group of my colleagues and show them what an undergraduate liberal arts student can do. They can hold their own and more."
And what will be the gist of Sayles' presentation? Hard data shows that contrary to anecdotes and popular belief, the number of colleges and universities offering a bachelor of arts in comparative literature has increased in the past 10 years.