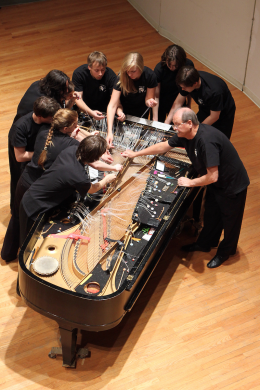 The Bowed Piano Ensemble will perform Director Stephen Scott's newest work, Afternoon of a Fire, a commemoration of the Waldo Canyon fire of 2012, on Thursday, March 7, at 7:30 p.m. in Packard Hall.
Soprano soloist Victoria Hansen will join the ensemble, Colorado College's internationally renowned experimental music group, in a preview concert of their ninth European tour. The event is free and open to the public.
The program will also include Scott's Aurora Ficta (False Dawn), New York Drones, and Baltic Sketches. The ensemble will accompany Hansen in two vocal pieces, "Vocalise" and "La Guitarra," from Scott's song cycle Paisajes Audibles (Sounding Landscapes). The online journal New Music Box said of this work: "...when (soprano Victoria Hansen) sings along with the Bowed Piano Ensemble, expect the walls to melt down again as you return to the almost primordial atmosphere guaranteed to enrapture."
Scott said he composed Afternoon of a Fire as a personal response to the threat to and eventual loss of many homes on Colorado Springs' west side, where he lives with his wife Victoria. They received many e-mails of concern from friends in the U.S., Australia, New Zealand, UK and Slovakia, but their neighborhood was spared. Afternoon of a Fire is dedicated to those who weren't so lucky, and to the many heroes fighting the fire and helping their fellow citizens through tireless community service.
Packard Hall is at the southwest corner of North Cascade Avenue and Cache La Poudre Street.
About the Bowed Piano Ensemble
Scott, Hansen, and the Bowed Piano Ensemble have toured and broadcast widely in Europe, Australia, New Zealand and North America and earned many favorable reviews in such publications as Gramophone, The American Record Guide, Wired Magazine, Fanfare, High Fidelity, The New York Times, The Independent (London), The Financial Times of London, The Los Angeles Times and Keyboard, as well as appearances on National Public Radio and PBS and on film and network television. Major festival performances have been at Spoleto Festival USA, Berliner Festspiele, Almeida Opera Festival (London), ppIANISSIMO Sofia, Bulgaria), the Visual Music Festival (Canary Islands) and Other Minds (San Francisco).
The Bowed Piano Ensemble has made five professional recordings on the New Albion and Albany labels, and their next recording, of the pieces on the March concert, will be produced by Parma Recordings and distributed worldwide by Naxos.
Student members of the Bowed Piano Ensemble are Zach Bellows, Connor Rice, Neil Hesse, Andrew Pope, Saraiya Ruano, Drew Campbell, Sylvie Scowcroft, Hadar Zeigerson, and Trisha Andrews.