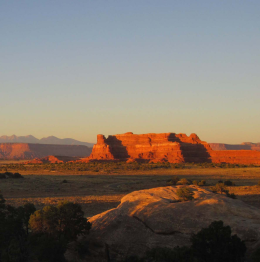 Media outlets from San Francisco to Texas to Montana and all places in between picked up the results of the bipartisan 2013 Conservation in the West poll, recently released by the Colorado College State of the Rockies Project.

This is the third year the State of the Rockies Project has conducted the poll, which surveys registered voters in six Western states (Arizona, Colorado, Montana, New Mexico, Utah, and Wyoming) about issues concerning conservation, environment, energy, the role of government, trade-offs with economies, and citizen priorities.

Among the key findings of the 2013 poll:
A majority (52 percent) perceive public lands to be a job creator in their state, and three-quarters (74 percent) believe national parks, forests, monuments, and wildlife areas help to attract high quality employers and good jobs to their state. There is near unanimity (91 percent) that public lands such as national parks, forests, monuments and wildlife areas are an "essential part" of their state's economy.
A 56 percent majority says that environmentally sensitive public lands should be permanently protected from energy development.
Water is a key issue: 87 percent say the low water level in rivers is a serious problem, with a significant majority (60 percent) saying it is an "extremely serious" or "very serious" problem. More than three-fourths (77 percent) of voters say the low level of snowpack in the mountains is a problem, with 48 percent saying it is an "extremely serious" or "very serious" problem.
Nuclear and coal are the two energy sources voters in every state most want to discourage the use of (51 percent would discourage use of coal and 49 percent the use of nuclear).
The poll was conducted in conjunction with Lori Weigel, Public Opinion Strategies and Dave Metz, Fairbank, Maslin, Maullin, Metz & Associates between Jan. 5-10 and queried 2,400 voters. For more information, go to Conservation in the West Poll.