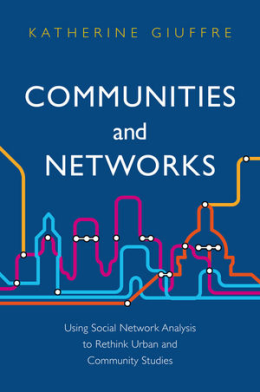 Why do some terrorists die while others do not? What may have distinguished the Salem, Mass., villagers who were accused in the infamous witch trials from those who avoided accusation?

Sociology Associate Professor Kathy Giuffre has written a new book, "Communities and Networks: Using Network Analysis to Rethink Community and Urban Studies," that explains a technique that can be used to analyze these issues.

The book, published by Polity, is based on a community and networks class Giuffre first taught about 15 years ago, and uses the relatively new field of network analysis to understand social problems and social life.

In the course, which Giuffre is teaching in Block 8, students use network software to look more deeply at social relations in a particular community. In the book, Giuffre drew on the work of scholars who study a particular community, and applied their work to network models.

For example, she looked at members of Salem Village during the infamous 17th-century witch trials in Massachusetts. Drawing on the work of scholars who had mapped social relations in the village, based on "fabulously meticulous" records kept by the Puritans, Giuffre did network analysis and found a huge division between the traditional Puritans, who were poor farmers, and less traditional Puritans, who were wealthy codfish traders.

With network analysis, she discovered that the members of the village who were accused of witchcraft were in the wealthy group. She found four small cliques of the accused, in groups so small and weak they couldn't fend off the accusations. The wealthiest villager, however, was never accused, perhaps because he had wide relationships in the village.

"The cool thing about network analysis is that it is a technique where you can take a different viewpoint, and you have the tools to analyze data in a new way," Giuffre said. The overall approach uses both computer and qualitative tools to understand social relations among groups of people.

The analysis can have real-world, contemporary implications. A student in her class used publicly available data to analyze the social networks of terrorists, and came up with a plausible explanation of why some terrorists died and others did not. Based on the characteristics of their networks, she determined that the terrorists who avoided being killed were those who had supportive social networks, giving them places to hide.

Writing the book led to changes in her course, Giuffre said. "Doing the book I learned a lot to bring back to the course," Giuffre said. "It's a nice, symbiotic relationship between teaching and scholarship."

The communities and networks class also relied on the work of Weston Taylor, the CC instructional technologist who modified the network analysis software so students could bring it up on their laptops during class, performing analysis when questions arose rather than waiting to analyze data during labs.