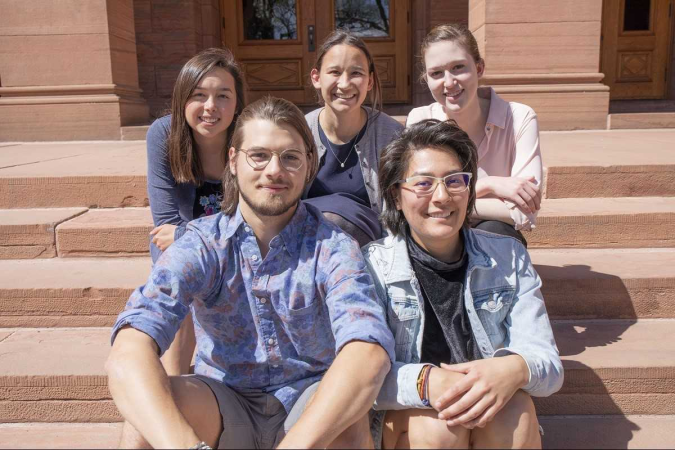 Colorado College has six JET recipients this year, the most ever in a single year. The Japanese Exchange and Teaching Program allows young professionals to live and work in cities, towns, and villages throughout Japan. Most participants serve as Assistant Language Teachers (ALTs) and work in public and private schools throughout Japan; some work as Coordinators for International Relations (CIRs) as interpreters/translators.
CC students and recent alumni selected by the program include Audrey Mills '18, Maya Patel '18, Emmanuel Sitinas '18, Alyssa Weaver '18, Anika Grevstad '18, and Clare Holtzman '17.
Mills, an art history major from San Francisco, studied at Waseda University in Tokyo from Block 1 through Block 7 of her junior. Her senior thesis looked at how Japanese prints and artwork influence Van Gogh's style in his later years.
Patel, a comparative literature major from Washington, D.C., is part Japanese and is pursuing the JET opportunity because she has always wanted to travel to Japan. In both her senior thesis and Venture Grant, she was interested in learning more about Japanese diaspora communities outside of the US. "My senior thesis was a translation of 13 poems by a Japanese-Peruvian queer feminist poet named Doris Moromisato. Through researching and translating her work, I learned more about Japanese-Peruvian history as well as her poetry."
Sitinas, an Asian Studies major from Wilton, Connecticut, spent 11 months at Waseda University in Tokyo during his junior year. His senior thesis, "The Path to A New Africa: A Study of Japan and China's Development Aid to Africa," outlines the economic development of both Japan and China post-WWII in an effort to predict what the future of Chinese and Japanese foreign-aid engagement on the African will look like. More importantly, says Sitinas, it posits which of the two aid programs will benefit the various nations of Africa the most. "I first became interested in this topic sometime last year while studying abroad at Waseda," he says. "As a final project for a Japanese foreign policy class, I studied Japan-Sub-Saharan African relations, focusing on Japan's use of foreign aid money and technical assistance to create good diplomatic relationships as well as secure Japanese domestic interests."
Weaver, an Asian Studies major from West Des Moines, Iowa, spent the spring of her junior year in Japan. Her senior thesis, "Oral Contraceptives in Japan: Government Influence on Modern-Day Perception and Use," drew on research Weaver conducted through a Venture Grant she received, as well as the Asian Studies Gaylord Prize for independent study.
Grevstad, an Asian Studies major from Seattle, Washington, participated in Colorado College's Semester in Asia her freshman year. Based in Japan, they traveled for a block, then spent three months at International Christian University in Tokyo. Grevstad returned to Japan the summer following her sophomore year with a Gaylord Prize in Asian Studies and a grant from the Luce Initiative on Asian Studies and the Environment. She later spent three weeks during Winter Break in Japan, thanks to a Venture Grant and a Gaylord Prize, conducting research for her thesis, "Sacred and Social Space: A Shinto Shrine in Shinjuku, Tokyo."