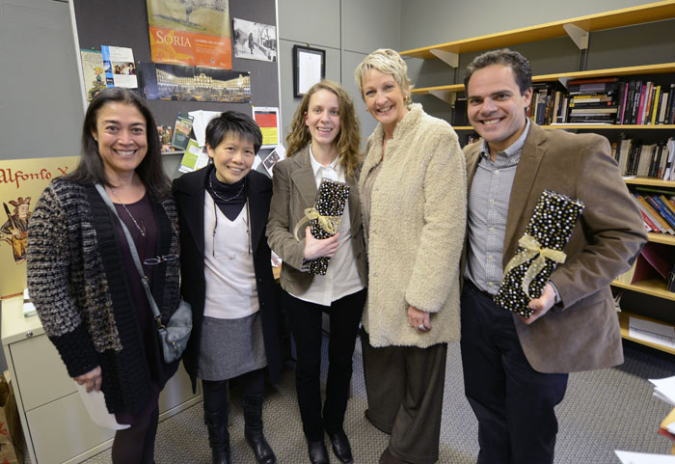 Six Colorado College faculty members were promoted and granted tenure by the CC Board of Trustees at their annual February meeting. One associate professor was promoted to full professor and five assistant professors were promoted to associate professor. CC President Jill Tiefenthaler and Dean of the College and Dean of the Faculty Sandra Wong visited each promoted faculty member, congratulating them and bestowing a gift.

Promoted to professor was Jim Parco of the Economics and Business Department. Promoted to associate professor were Daniel Arroyo-Rodriguez, Spanish and Portuguese; Andrea Bruder, Mathematics and Computer Science; Darrell Killian, Molecular Biology; Ryan Platt, Theatre and Dance; and Carrie Ruiz, Spanish and Portuguese.
Jim Parco received his B.S. in economics from the U.S. Air Force Academy in 1991. He earned his MBA from the College of William and Mary in 1994 and his Ph.D. from the University of Arizona in 2002. After completing his doctorate, he joined the faculty of his alma mater, where he received the Military Officers' Association of America's (MOAA) Outstanding Faculty Award and was named the USAFA educator of the year in 2010. He also served on the White House National Security Council during the Clinton administration and as a diplomat at the American Embassy in Tel Aviv. Parco joined the faculty at Colorado College in 2011 and teaches Personal Financial Planning, Investments, Entrepreneurship, Consumer Marketing, Leadership, and Business Policy and Strategy. He has served as the chair of the Assessment Committee, co-chair of the Truman Scholarship Committee, and faculty advisor of the Colorado College Investment Club.


Daniel Arroyo-Rodriguez became an assistant professor at CC in 2010 after receiving his Ph.D. in Spanish literature from the University of Michigan. A native of Spain, Arroyo-Rodriguez earned his B.A. in English philology at the University of Sevilla in 2000. He teaches Introductory and Intermediate Spanish, 19th-, 20th-, and 21st -Century Spanish Literature, the Spanish Civil War, Spanish Peninsular Literatures and Cultures in Democratic Spain, and Representation of the Muslim "Other" in Contemporary Spanish Culture in Spain and Morocco. An active linguist, Arroyo-Rodriguez is proficient in five languages (Spanish, Catalonian, Italian, French, and English). In 2015 he received the Ray Werner Junior Professorship Award for Outstanding Teaching in the Liberal Arts at Colorado College. He has served as the chair of the former First-Year Experience Committee and is a current member of the Curriculum Executive Committee.


Andrea Bruder came to the Department of Mathematics at CC in 2009 after earning her Ph.D. in mathematics from Baylor University. She received her B.S. from Johannes Gutenberg University in her native Germany and an M.S. in mathematics at Munich University of Technology in 2007. Bruder teaches an array of courses at CC including Pre-calculus, Calculus, Linear Algebra, Differential Equations, Numerical Analysis, Probability and Statistics, and an FYE course called Calculus and Chaos. She has coached a team of outstanding students in the Consortium for Mathematics and its Applications (COMAP) contest. She has served on the Dean's Advisory Committee, Athletics Board, Curriculum Executive Committee, and as chair of the Tashjian Crecelius Prize Committee. She currently serves as treasurer of the International Society of Difference Equations (ISDE).


Darrell Killian arrived at CC in 2011 after completing a postdoctoral fellowship at the University of Colorado at Boulder in 2008. He received a B.A. in molecular biology and biochemistry from Wesleyan University in 1998 and a Ph.D. in biology and developmental genetics from New York University in 2004. At CC, Killian teaches many courses, including Molecular and Cellular Biology, Genetics, Cells and Genes, Developmental Neurobiology, Stem Cell Biology, and the Science and Ethics of Genetics. His recent work is on the dentrite morphogenesis in the fruit fly and in elegans, a collaborative project with Eugenia Olesnicky's lab at the University of Colorado at Colorado Springs that is supported by the Natural Science Foundation. He has received numerous grants and awards, including a Society of Developmental Biology Teaching Faculty Travel Grant and the Gladys Mateyko Award for Excellence in Biology. He serves as chair of the Health Professions Advisory Committee and as an advisor to the Neuroscience Program.


Ryan Platt earned his Ph.D. in theatre arts in 2011 and his M.A. in theatre arts in 2007 at Cornell University. He received his B.A. in theatre and dance and French studies from Amherst College in 2001. Since joining the faculty, Platt has published in the PAJ Theatre Journal. His article, "The Ambulatory Aesthetic of Yvonne Rainer's Trio A" appeared in the Dance Research Journal in 2014. He has presented his work at the University of Colorado at Boulder, University of Copenhagen, University of Iowa, Reed College, York University, and Rensselaer Polytechnic Institute. His innovative courses include Mourning Representation: The Aesthetics of AIDS; Locution, Location, and Locomotion; Spectacle, Art, and Society; and Queer Performance and Body Politics. He has served on the Curriculum Committee and Mellon Arts Committee and now chairs the Academic Events Committee.


Carrie Ruiz joined the Department of Spanish and Portuguese at CC in 2010 after serving as an assistant professor of Spanish at Carnegie Mellon University. She earned her B.A. in Spanish literature from Shippensburg University of Pennsylvania in 1999 and received both her M.A. in Spanish literature in 2001 and her Ph.D. in pre-modern Spanish literature in 2008 from the University of Colorado at Boulder. She teaches Elementary and Intermediate Spanish, Literary and Filmic Analysis Studies; Hispanic Border Encounters from the Middle Ages to the 21st-Century; Civilizations and Culture of Spain; and Monstrous Bodies in Spanish Baroque Cultural Productions. Ruiz's primary field is early modern Spanish Peninsular literature. She has served as the faculty director of the Summer Program in Spain and serves as treasurer and co-editor of Transitions: Journal of Franco-Iberian Studies.