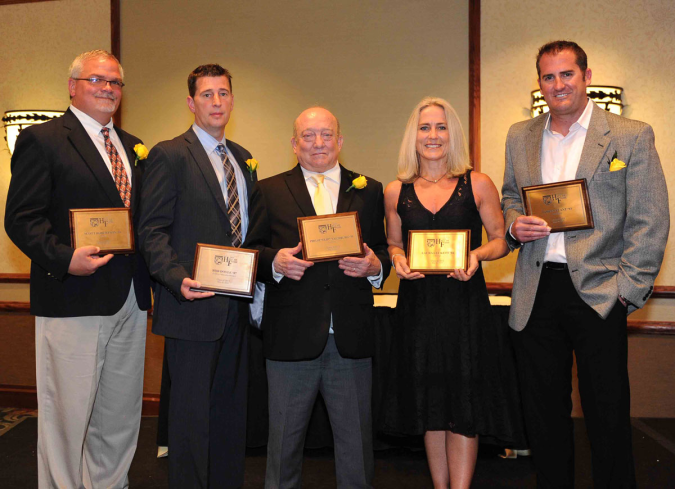 Six individuals were inducted into the Colorado College Athletic Hall of Fame on Saturday, May 30, 2015, at the Cheyenne Mountain Resort in Colorado Springs.

Enshrined as the Class of 2015 were Rob Doyle '87, hockey; Laura Luckett '84, diving; Philip "Flip" Naumburg '75, lacrosse; Scott Robertson '89, football and baseball; and Jason Valant '93, basketball. Sog Panter '42, football and track, was inducted posthumously.

A three-time MVP of the hockey team, Doyle scored 51 goals and added 151 assists in his four years at CC. His 202 career points lead all defensemen and are fifth overall on the school's all-time scoring list. He led the Tigers in scoring as a sophomore in 1984-85 with 55 points (11g,44a) and tied for the team lead the next season with 59 points (18g,41a). Doyle was a three-time all-WCHA performer, earning first-team honors as a senior and selection to the second-team as a sophomore and junior. He went on to play nearly 1,000 games as a professional player in the U.S. and Europe and represented Austria in the 1994 Olympic Games.

Luckett was Colorado College's first female diver to earn All-America honors, earning that status on the 3-meter board in both 1983 and '84. She advanced to the national championships each season, placing ninth as a junior in 1983 and sixth as a senior in 1984. She qualified for nationals as a sophomore in 1982 but did not place. Following her graduation, Luckett returned to CC as the diving coach from 1986-88 and was named the Division III Coach of the Year in 1987.

Naumburg racked up 35 career points (31g,4a) in his four-year career at CC, but made his name in the lacrosse world following his graduation. During his time at CC, he co-founded the Vail Lacrosse Shootout, then served as head coach at Colorado State University for 14 seasons. Naumburg led the Rams to a 208-52 overall record, five Men's Collegiate Lacrosse Association national championships and six Rocky Mountain Lacrosse Conference titles. He was inducted into the Colorado Lacrosse Foundation Hall of Fame in 2006.

Robertson, widely regarded as the best linebacker in the history of Colorado College football, was a Division III All-America selection and named the Small College Defensive Player of the Year by The Denver Post as a senior in 1988 when he led the Tigers with a school-record 183 tackles. He also holds the school record for solo tackles (372), assisted tackles (300), total tackles (672) and fumble recoveries (9) in a career. His 672 total tackles are 252 more than second place on the school's all-time list. Robertson also lettered two years in baseball at CC.

Valant, a three-time team captain at CC, is third on the school's career scoring list with 1,899 points and the school-record holder with 315 made three-pointers. He was instrumental in the Tigers winning a school-record 22 games and advancing to the round of 16 at the NCAA Division III Tournament in 1992, the program's first appearance since 1960. Valant is No. 1 in program history with 103 games played, seventh with 124 steals and 14th with 200 assists.

Panter was a two-time all-conference selection as a center for the Tigers in 1940-41. Following his graduation, he was highly regarded by a number of NFL teams, but he rejected professional football and instead joined the U.S. Navy during World War II.