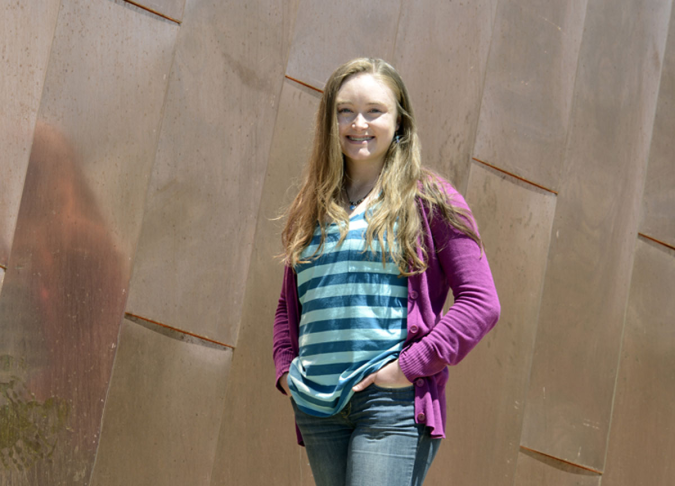 Sierra Melton '18, a geology major and environmental issues minor from Boulder, Colorado, has received a Udall Scholarship Honorable Mention.
The Udall Foundation awards scholarships to sophomores and juniors for leadership, public service, and commitment to issues related to American Indian tribal policy, Native American health care, and the environment.
Melton, the co-chair of EnAct and one of two Colorado College students this year to receive a Goldwater Scholarship Honorable Mention, plans to conduct research on the effects of environmental changes on natural resources and human society, specifically studying hydrogeology, paleoclimatology, or glaciology. Her longstanding geological passions include gaining insight into climate change through paleoclimatology and investigating the role of glaciers in sea level rise.
In her application to the Udall Foundation, Melton notes "Sometimes feel that geology is a misunderstood profession. When I tell people I am a geologist, they often assume that I want to make a profit in the oil and gas industries, or that I just enjoy looking at rocks. I tell them that geology is so much more than that: It is the study of our beautiful, dynamic earth, and it has the power to change the world."
Melton participated in the Teen Science Scholars program at the Denver Museum of Nature and Science during the summer of 2013, where she conducted ground-penetrating radar (GPR) surveys of archaeological sites in New Mexico. Last summer she participated in an NSF Research Experience for Undergraduates program at the University of Texas Marine Science Institute, where she analyzed sediment grain size, porosity, and organic matter in sediment cores from tidally-influenced freshwater rivers to support research on nitrogen cycling.

When asked to name an important or illuminating experience, Melton cites her First-Year Experience course, Physical and Environmental Geology, led by Professor of Geology Jeff Noblett. "The 16 students in the class followed the professor all over Colorado Springs as we learned about the local geological history and hazards, including expansive soil, landslides, mine subsidence, and minor earthquakes along the Ute Pass and Rampart Range fault," she says. "We learned of the conflicts and harmonies between society and the natural systems, studied deep ecology, discussed eco-feminism and environmental racism, analyzed our own environmental impacts in the face of diminishing resources, and even learned about aspects of Hopi environmental philosophy. After the class, I was extremely motivated to become involved in environmental initiatives on campus."
In addition to coordinating a highly successful land conservation fundraising effort with the Palmer Land Trust, Melton is an Office of Sustainability residential life intern and a student leader with Colorado College Learning Initiative in the Mountains (CCLIM). She leads local middle-school students on educational geology hikes through the nearby Red Rock Canyon Open Space. "I teach them how to 'taste' the rock to differentiate between shale and siltstone, point out fossils, and demonstrate the 'fizzy' property of limestone reacting with hydrochloric acid," she says.
"I cannot wait to use my passion for geology to increase understanding of crucial natural processes and encourage conservation of landscapes that are important in the functions and history of Earth," says Melton.