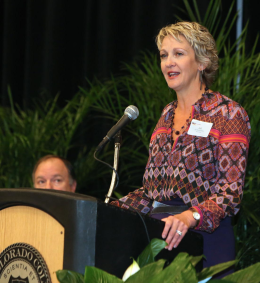 Colorado College is making wonderful progress on planning for its future! We now have our goals, and it's time to suggest initiatives that will support the goals.
The ideas and discussions that bubbled forth at the recent Year of Planning Winter Conference were inspiring, and the energy and enthusiasm on campus is contagious. You can watch some of the action and hear some of the ideas in the Block 5 welcome and Year of Planning update.
CC now is asking the college community - near and far - for ideas for initiatives. You can post your ideas on the website at www.coloradocollege.edu/strategic planning. Those on campus may also have noticed other places to share ideas - bulletin boards, chalkboards, butcher paper - in high-traffic areas. Look for those - and some new, forthcoming opportunities - in locations such as Worner Campus Center, Armstrong Hall, Cornerstone Arts Center, and Tutt Science Center. Have fun with these - get creative and think big!

This is an important time, as we plan for the next decade at Colorado College. Your participation is vital to our success, so please share your ideas by Feb. 28.