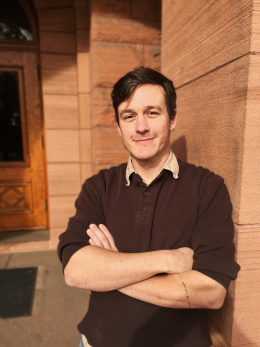 Shane Lory '16, who as a Colorado College sophomore co-founded the nonprofit Colorado Springs Food Rescue, has been named the 2018 recipient of the Livesay Award for Social Change, a move that fittingly brings his undergraduate experience at CC full circle.

The Livesay Award, named for Professor Emeritus of Sociology Jeff Livesay, will be presented at the Public Interest Fellowship Program dinner on May 1. The award is presented annually to a Colorado College graduate "who is living out the mission, spirit, and goals of the Public Interest Fellowship Program in his or her life and career by contributing to systemic change, by increasing the capacity of the nonprofit sector, and by helping to build a new generation of nonprofit leaders."
Lory notes that he was fortunate to take a course with Livesay before the professor retired in 2015. "That class was called The Nonprofit Sector and the critical information I learned during that course shapes how we choose to operate as an organization every day," Lory says. "For that I can never thank Jeff enough. Hands down it was the class that provided me with the most relevant tools for the path I ended up taking after graduating."
That path includes overseeing CSFR's incorporation as a 501(c)3 non-profit, the development of its governance structures, the hiring of additional staff, serving as co-chair of CSFR's board, and after graduation becoming director of operations for CSFR, the nonprofit he co-founded in the fall of 2013 - less than five years ago.
In the letter sent to Lory announcing his selection as the 2018 recipient, Lani Hinkle '83 notes that "In past years, the Livesay Award has gone to CC alums who are significantly older than you, and much farther along in their careers. But the impact you've had already through your work makes you a well-deserving recipient of this year's award."

Lory spent the 2013-14 school year laying the groundwork for the future growth of CSFR, whose goal was bridge the gap between surplus healthy food going to waste in Colorado Springs and communities that lacked access to such resources. To do this, the Food Rescue team reached out to a variety food distributors including large grocery stores, restaurants, community farms, and gardens. A crew of volunteers would then fill bicycle trailers and pedal across town to organizations that distribute the food to the hungry.
During its first year, CSFR crowdsourced more than $7,000 to purchase initial food transportation equipment, which included items such as bicycles, trailers, food trays, thermal bags, and thermometers.

Lory and co-founder Meredith Bird '15 went on to win $10,000 in seed funding at Colorado College's 2014 Big Idea competition, paving the way for an additional grant award from the Edmondson Foundation. These initial fundraising successes allowed CSFR to continue to expand.
Currently leading the way in food systems and education work in Colorado Springs, CSFR now boasts a core staff of seven, with an additional four high-school student advocates on the payroll, and four to five CC students employed per year through the work-study program. CSFR has now distributed more than 1,000,000 pounds of healthy food to communities throughout Colorado Springs.
Over the past two years the nonprofit has expanded to include programs fostering food education, community-building, and neighborhood development. They have developed partnerships ranging from local school districts and job-placement programs to affordable housing organizations and community health worker groups, using food as a means to drive neighborhood-based change.