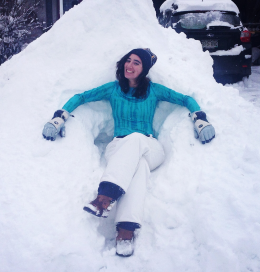 A Colorado College psychology major who played defense on CC's Division I women's soccer team has had her senior thesis, "The Effect of Stereotype Threat on Student-Athlete Math Performance," published in the Psychology of Sport and Exercise journal.
Shaina Riciputi '14, who worked with CC Professor of Psychology Kristi Erdal, conducted an experiment in which she reminded -or primed - half of a group of 60 NCAA Division III student-athletes of their athletic identity prior to their taking a difficult math test. The objective was to assess whether a subtle stereotype threat of student-athletes would cause a decrease in both academic effort and performance.
"It was an experiment that showed if you remind athletes that they are athletes before taking a math test they will show reduced effort and poorer performance than if you do not remind athletes they are athletes before taking a math test," says Erdal.

Supporting the hypotheses, student-athletes who were primed with their athletic identity attempted significantly fewer problems and received lower mean math scores than those who were not primed, Erdal says. Contrary to hypotheses, gender did not impact effort or performance, and there was no evidence of buffering effects of priming non-athlete identities.
Riciputi concludes that the results of the experiment provide evidence for stereotype threat effects across genders and into Division III athletes, which potentially impact student-athlete academic performance.
Erdal has mentored a long line of psychology majors, and several have had their work published in professional journals. "It has been a true pleasure working with these scholars over the years and very fun getting to be there at the beginning of their careers," she says.
Riciputi has since gone on to earn a master's in health and kinesiology from Purdue University, where she currently works as a project manager, conducting research on designing interventions to promote adolescent health outcomes such as pregnancy or substance use in underprivileged populations.