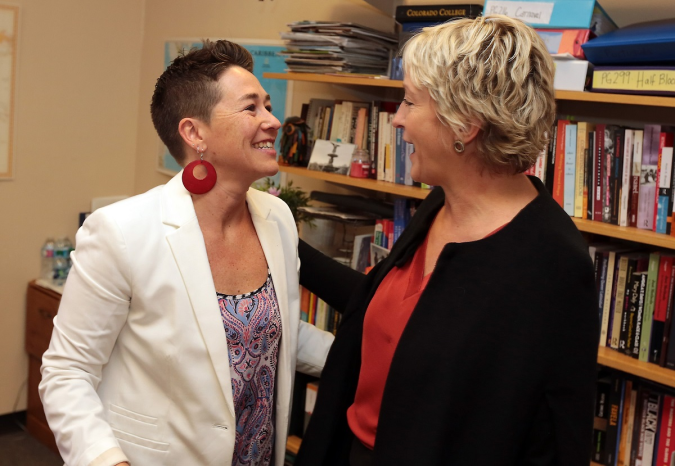 Seven Colorado College faculty members have been granted tenure and promotion to associate professor following the annual February meeting of the Board of Trustees. CC President Jill Tiefenthaler and Sandra Wong, dean of the college and dean of the faculty, visited each promoted faculty member, congratulating them and bestowing a gift.
Those granted tenure and promoted to associate professor, effective July 1, are:
Helen Daly, Philosophy
Scott Krzych, Film and Media Studies
Christina Leza, Anthropology
Corina McKendry, Political Science
Habiba Vaghoo, Chemistry and Biochemistry
Dana Wolfe, Political Science
Naomi Wood, Spanish and Portuguese
Daly, who joined Colorado College in 2011, received her B.A. summa cum laude from the University of Akron in 2002 as a double major in philosophy and English, and holds a Ph.D. in philosophy from the University of Arizona. She has wide interests in philosophy, as evidenced by her CC courses that include Greek Philosophy, Metaphysics, Formal Logic, Philosophy of Language, and 20th Century Analytics Philosophy. Daly presented her most recent research project, "On Insults," at the CC Philosophy Colloquium in 2016. She currently serves on the Faculty Executive Committee and has served on the Budget Committee, Committee on Admissions and Financial Aid, and Curriculum Executive Committee.
Krzych received his B.A. in English from California State University, Northridge, in 2001, and his M.A. in English from the State University of New York, Buffalo, in 2004. In 2010, he earned his Ph.D. in Screen Studies from Oklahoma State University. His eclectic course offerings include Introduction to TV and New Media, Media and Psychoanalysis, Philosophy of Technology in Film and Media, and Videogames, Aesthetics and Culture. Krzych was a featured speaker at the Open Society Institute's seminar on Media and Philosophy in Akbuk, Turkey, where he presented his project, "The World in Miniature," a study of Google Earth and social network timelines through tilt-shift video and digital cartography.
Leza earned her B.A. in English literature from New Mexico State University in 1999, an M.A. in anthropology from the University of California, Davis, in 2001, and her Ph.D. in anthropology from University of Arizona in 2009. She also served as the United Nations Delegate on the United Nations Forum on Indigenous Issues in 2008. Leza frequently teaches in both the Race, Ethnicity, and Migration Studies and Southwest Studies programs. Her courses include Native People of the Southwest, Anthropological Perspectives, Linguistic Anthropology, and Language in Culture and Mind: Cognitive Anthropology. Her current research projects include a book manuscript, "Divided Nations: Policy, Activism and Indigenous Identities on the U.S.-Mexico Border," and a chapter on hip-hop as activism for a scholarly volume on indigenous music and modernity. She is a member of the American Anthropological Association and faculty co-chair for the Diversity and Equity Advisory Board.
McKendry, who joined CC in 2011, received her B.A. in International Studies from Macalester College in 1998 and her M.A. and Ph.D. in politics from the University of California, Santa Cruz, 2011. She is in the Political Science Department and a core member of the Environmental program. McKendry's courses include Introduction to International Political Economy, Sustainable Development, U.S. Environmental Politics, Global Environmental Policy, and Cities, Sustainability, and Environmental Justice. Her research examines urban environmental governance with a focus on postindustrial cities in the global north. She has served on the Faculty Executive Committee, Curriculum Executive Committee, Campus Sustainability Council, and advises the Urban Studies minor. She also is the ACM Chicago: Arts, Entrepreneurialism, and Social Justice advisor.
Vaghoo holds a Ph.D. in organic chemistry from University of Southern California, Los Angeles. She received her B.A., magna cum laude, in chemistry from Concordia College in 2003. She teaches Organic Chemistry I, II, and III, general chemistry courses, and co-teaches an interdisciplinary Bridge Scholars course titled Food, the Brain and Behavior. Her research focuses on anti-malarial drugs to eliminate adverse side effects. In 2015, she and her co-authors received a National Science Foundation grant to study a high-performance liquid chromatography system. She is a member of the American Chemical Society and the prestigious Sigma Xi Scientific Research Society.
Wolfe joined the CC faculty in 2011, shortly after receiving her Ph.D. in American politics from Ohio State University. She earned her B.A. in political science from University of California, Santa Barbara, in 2004. Wolfe is a core faculty member in the Feminist and Gender Studies program and has developed interdisciplinary courses such as American Government and Politics, Human Trafficking, Media and Politics, Political Psychology, Public Opinion, Public Policy, and Women, Voting and Elections. Her most recent article, "Women's Issues and Their Fates in Congress," will soon appear in the Political Science Research and Methods Journal. She has published her scholarly work in the American Journal of Political Science and the Journal of Public Policy. Wolfe has served on the Social Sciences Executive Committee and the Faculty Executive Committee.
Wood received her B.A. in comparative literature from Mills College in 2002. She completed both her M.A. in Hispanic literature and Ph.D. in Hispanic and Luso-Brazilian literatures and culture in 2011 at the University of Minnesota. A member of the Spanish and Portuguese Department, and an active participant in the Feminist and Gender Studies and Race, Ethnicity, and Migration Studies programs, she teaches Latin American Feminisms, Caribbean Literatures and Cultures, Film and Visual Arts, Diaspora Studies, Brazilian Cultural Studies, Postcolonial Studies, and Popular Culture and Hip Hop Studies. She recently published an edited collection titled "Brazil in Twenty-First Century Popular Media," which studies the ways that Brazil has been represented, and seeks to portray itself, in popular media in the 2014 World Cup and 2016 Summer Olympics. Wood is a member of the Brazilian Studies Association, Latin American Studies Association, Modern Language Association, and American Studies Association, and has served on the Interdisciplinary and Experimental Arts Committee and International Studies Program Committee at Colorado College.