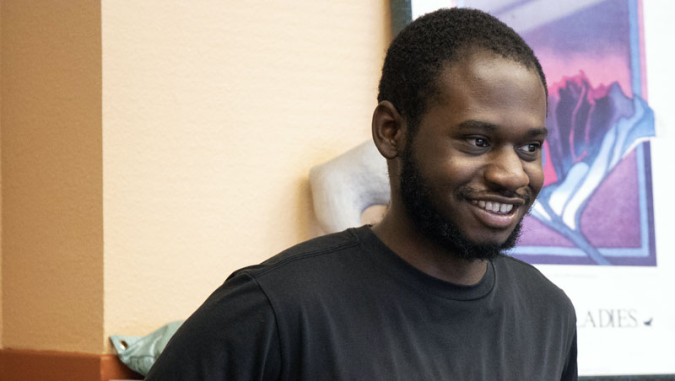 In his first year at Colorado College, John Capers '21 learned the value of CC's alumni network.
When Capers came from inner-city Chicago to attend CC, he received the Susan Hoke Smith, Class of 1977, Endowed Scholarship.
"Scholarships help individuals like me who can't financially support themselves to go to college," Capers says.

The prospective political science major and German minor arrived on campus two weeks early to participate in the Bridge Scholars Program, a rigorous, immersive experience that gets new students up to speed on life at CC before their first block.
"Having the resources through peer mentoring and knowing the facilities before school even started was an amazing boost to my confidence," he says.

This fall, Capers himself was a student-mentor in the Bridge Scholars Program, helping others gain their footing. He has built on that early confidence, applying himself to his studies. With equal measure, he has worked to give back to the campus and local community.

As a representative of the Colorado College Student Government Association, he serves on the outreach committee. The group retrofitted LED lights in two Colorado Springs school districts. And, he was instrumental in informing the campus community about an important election issue.

"My personal project was to get Mark Glaze '92, a bipartisan gun-control activist, to come to CC to have a talk with other like-minded individuals on CC's campus. With mid-term elections coming up, people should know about the issues that are most significant in our country," Capers says.

In April, he went to New York City as part of the donor-supported Tiger Trek program, a joint offering of the Career Center and Office
of Alumni and Family Relations. The program arranges tours of major cities, highlighting prestigious alumni and potential career paths. It
was there he met with and received career advice from arts, media, and entertainment alumni.
"CC is preparing me for the future by offering these opportunities and by having the alumni to back up their claims that their education is actually working. These graduates have the skills that they gained from CC to be successful," he says.
He hopes to participate in Tiger Trek again in the future.

Capers also is an active member of Tiger Link, a professional networking platform that connects CC students to alumni who can assist in exploring careers and industries.