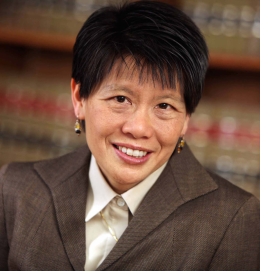 Colorado College President Jill Tiefenthaler has named Sandra Wong as dean of the college/dean of the faculty. Wong, an associate professor in the sociology department, will assume her new role on July 1.

"Sandi Wong is a forward-thinking leader who will work with faculty and staff collaboratively to strengthen the academic program at Colorado College," said President Tiefenthaler. "Sandi's commitment to excellent teaching and student success is evident in the many ways she serves the college. She is an accomplished scholar and educator who understands the importance of inclusion and global learning."

Wong, a third-generation Chinese-American and a first-generation college graduate, has been a member of the Colorado College faculty for 12 years. She graduated cum laude from Rice University in 1982 with a degree in sociology and English, and earned an M.A. and Ph.D. in sociology from Yale University. She arrived at CC in 2000, after eight years as an assistant professor at Wesleyan University.

Wong's major teaching and research interests are race and ethnicity, and the sociology of education. She is the author of "Managing Diversity: Institutions and the Politics of Educational Change," as well as numerous articles and reviews.

Classes she has taught at CC include Thinking Sociologically, Racial and Ethnic Identities, Sociology of Education, Sociology of Emotion and Qualitative Research Methods. One of her favorite classes to teach is Racial Inequality, because, she says, "I can take students in this class to a different place, beyond post-racial beliefs that are increasingly taken for granted."

Among the committees Wong has served on is the influential faculty executive committee, which she chaired for a year. She also chaired the college assessment committee and served as the co-chair of the college's diversity task force.

"In her campus leadership roles, she has demonstrated thoughtful problem solving, and the ability to develop and sustain mutual trust and support. As dean, her wisdom and energy will propel CC toward even greater excellence," Tiefenthaler said.

One of Wong's aims is "to create the richest possible learning experience" for CC students. "We offer a distinctive liberal arts education," she said. "We need to highlight its most valuable aspects, continue to encourage excellence and ingenuity, and provide the knowledge and perspectives that shape students for the rest of their lives."

Wong takes over the position from Susan Ashley, who became dean in June 2005. Following a sabbatical year, Ashley will resume teaching in the history department.

The dean of the college/dean of the faculty is the college's second-ranking officer with responsibilities that span the entire institution. Wong will report directly to the college president, serve on the president's cabinet, take a leadership role in the annual budget process and recommend decisions on tenure and promotion of faculty to the president.

Wong expects to find the position challenging and fulfilling. "This will be a great opportunity at a very exciting time. I look forward to building upon the strengths of our academic program, and even more, to work with others not only to problem-solve, but also to enhance the vibrant learning community we already have. These possibilities intrigue me," she said.