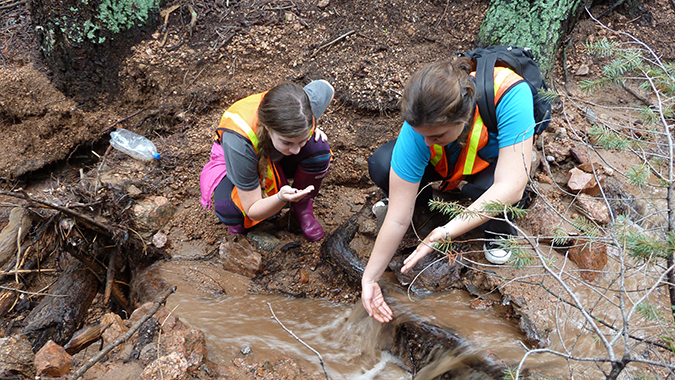 "Year One, Block One, Day One of class at Colorado College, and we are already getting our hands dirty," Isabelle Febvre '17 and Emelie Frojen '17 wrote about their First Year Experience geology course.  "Our professor, Christine Siddoway, greeted us first-year students eagerly and told us to get our sun hats and tennis shoes, and to get ready for an active field afternoon at our study site at The Fan."

Little did they know that The Fan, a formation at the base of Cheyenne Mountain, on the south side of Colorado Springs, would a week later become an active, and muddy, laboratory to measure the impact of the rains that pounded Colorado recently.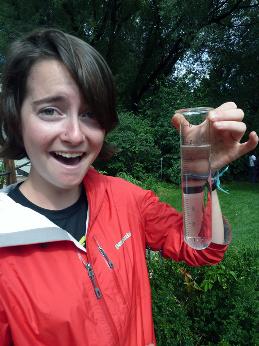 The 16 students in Siddoway's geology class spent the first two days of class exploring, observing, and collecting data in The Fan.  "You can think of this as a paper fan, the handle would be the main stream and the bends in the body its channels where the sediment and water runoff of the Cheyenne Mountain stream is deposited," wrote students Dana Cronin '17 and Carina Rodriguez '17.

Febvre and Frojen described their work on The Fan during the first two days of class, when Siddoway asked them to try to figure out what had happened in the area over time, and why:

The afternoon and the following day consisted of exploration, observation, data collection, and lots of sun blocking. Trees at the base of The Fan seemed buried under layers of cobble as evident by the lack of showing root. A few broken branches scattered around the base of The Fan were stripped of bark and pointing downward. Mini channels, no more than a few inches in width and depth, ran down the inside of the structure. Further up The Fan, the walls grew taller, reaching up over our heads in some areas and exposing soil, rock, and roots. The ravine curved in some areas and sloped steep and straight in others. The dimensions, rock sizes, and mini channels all varied, but we diagnosed the color and type of rock to be consistent. By the end of those two days, we'd developed a few different comprehensive hypotheses that weren't too far off!

Torrential rainfall had created dynamic channels of all sizes that eventually open and pour into the shallow and wide base of the alluvial fan. The floods rapidly carved out the streams and channels, deposited gravel at the base of The Fan and around the pines, and eroded the rounded rocks. Maybe we wouldn't be so novice for long!