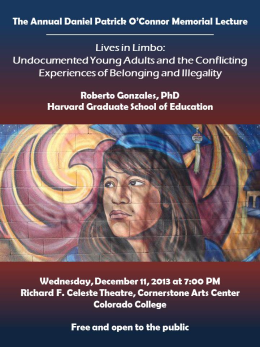 Wednesday, December 11, 2013, 7:00 PM - 9:00 PM
Richard F. Celeste Theatre
Edith Kinney Gaylord Cornerstone Arts Center
Free Event, Open to Public
The 2013 Daniel Patrick O'Connor Lecture in Social Justice features Roberto Gonzales, PhD, of the Harvard Graduate School of Education, who will present "Lives in Limbo: Undocumented Young Adults and the Conflicting Experiences of Belonging and Illegality."
A Colorado College alum, Dr. Gonzalez administered the West Coast Undocumented Young Adults Research Project, collecting in-depth histories of hundreds of undocumented young people in California and Washington. To date, this is the "biggest and most systematic effort to understand these young people and their untenable circumstances."
Dr. Gonzales continues to study the effects of the Deferred Action for Childhood Arrivals (DACA) and the policy's widened access for undocumented young people to education, work, civic presence, and mental well-being.