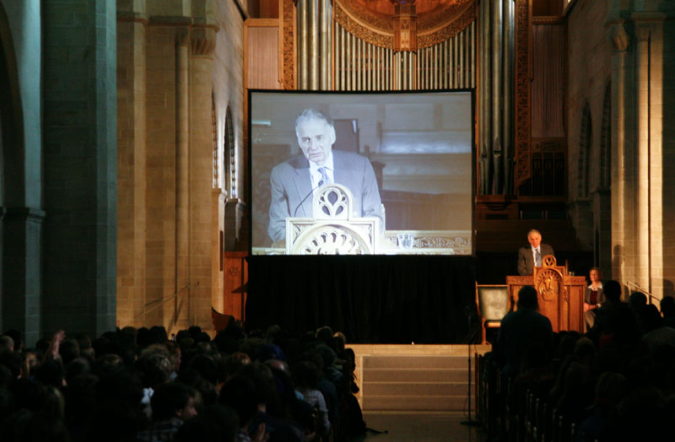 Consumer advocate and political activist Ralph Nader addressed Colorado College students, faculty, and staff on Jan. 23, in a campus-wide "First Monday" event President Jill Tiefenthaler described as "designed to build community around a shared academic experience." The event completely filled two major venues on campus: It was held live in Shove Memorial Chapel and simulcast to a capacity overflow crowd in Armstrong Hall.
In his talk, held on the first Monday of the block and titled "The Corporatization of America: What it Means for Your Dreams," Nader said ordinary people can do extraordinary things when public sentiment is behind them. He urged students to be civic, rather than corporate, citizens, and outlined several steps students can take to bring about change. His lecture was recorded by KRCC, Colorado College's NPR-member station, and is available at http://radiocoloradocollege.org/2012/01/ralph-naders-lecture-at-cc/
Nader also donated some of the books he mentioned in his talk to Tutt Library, and took the time to inscribe them. The list of books can be seen here and are available for checkout at the library.