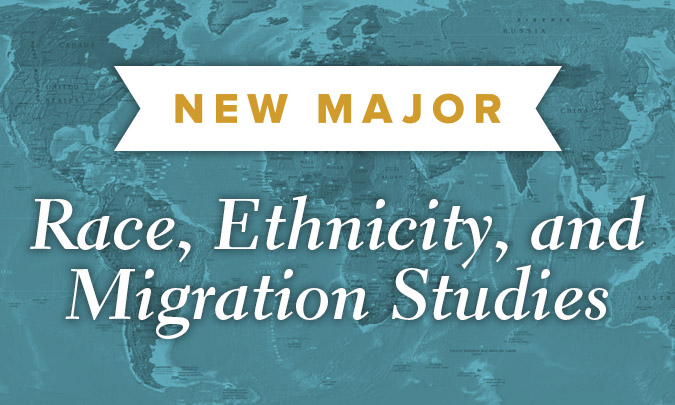 By Laurie Laker '12

It's been a long, long time coming - 10 years, to be exact. At last, Colorado College is able to introduce the new Race, Ethnicity, and Migration Studies (REMS) major. On the docket since 2006, the introduction of the REMS major reaffirms the college's commitment to diversifying both its curriculum and the dialogues that occur across its community.
"Issues of diversity, including belonging, racial and ethnic history, have always been important from an intellectual and analytical perspective," says Claire Garcia, professor of English and director of the REMS program. "Students want attention paid to issues of racial justice, social inequality," she says, adding "the college has a duty to this work also."
Aimed at providing students with "the intellectual, analytical, and terminological tools to make sense of the world," the REMS program serves as a reminder that what students glean from the classroom can, and should, have a real, profound impact on the community beyond.
Garcia's hope for the program is that it "gives everyone the theoretical and conceptual language to talk about personal experiences of being racialized, gendered, and marginalized in a safe environment." It's vital that people involved in these discussions "get the language and concepts right, as this will only help broaden and deepen conversations across our campus community," she says.
Past efforts to launch a program like this were sidelined due to financial constraints and difficulty acquiring dedicated faculty for teaching posts.
"Kudos and thanks must be given to President Jill Tiefenthaler and her leadership team for giving us the traction to get the program launched," Garcia says. Backing the program has reaped immediate rewards: Even before the official launch, two students signed up to begin their coursework this fall, with many others expressing interest in majoring.
Oftentimes, institutions such as CC are considered bubbles, places where events from the world outside simply don't permeate the campus. "The national landscape of racial strife reverberates here, certainly," says Garcia. "Recently hired junior faculty in REMS and other departments are engaged in interdisciplinary work that focuses on these exact issues." REMS faculty includes Dwanna Robertson, who teaches Indigenous Studies; Michael Sawyer, who teaches Africana Studies; and Jamal Ratchford, who teaches African American and Sports History.
A commitment to curriculum range, along with student demand, brings the REMS program to the forefront of CC's liberal arts education. More than 30 faculty contribute cross-listed courses to the REMS program, in departments such as German, Sociology, Feminist and Gender Studies, English, Political Science, Philosophy, and Anthropology, to name a few. "The wave of the future is interdisciplinarity," Garcia says.