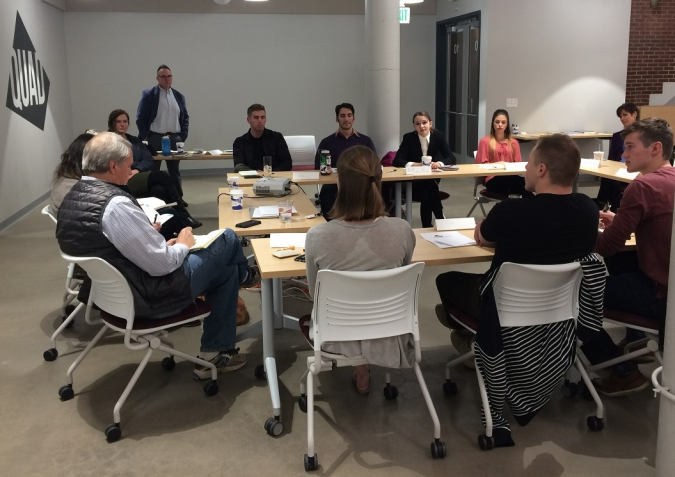 The Quad Innovation Partnership launched two community-focused impact projects this week, with a third launching later this month. The three projects include working with two local companies, Janska and Altia, and a social services collaboration between the City of Colorado Springs and El Paso County.
The Quad, a joint initiative between four institutions of higher education in Colorado Springs - Colorado College, Pikes Peak Community College, University of Colorado Colorado Springs, and the US Air Force Academy - is continuing its mission of serving the immediate needs of area businesses and organizations while offering professional development opportunities to students and recent graduates. Two members of the Colorado College Department of Economics and Business are servings as team advisers.
To oversee the rapidly expanding project base - and number of students engaged in project work - the Quad has hired Beka Adair '16 as assistant director. Adair, who earned a BA in economics from Colorado College, joined the Quad from the Colorado Springs Chamber of Commerce and Economic Development Corporation where she specialized in economic development, workforce development, and talent retention.
"The Quad Innovation Partnership brings together business, community, higher education and ideas, creating exciting opportunities for students and young grads," says Colorado College President Jill Tiefenthaler. "The Quad is making a tremendous positive impact in the region. Hands-on, real-world projects prepare students and grads for leadership."
Each project has a dedicated team comprised of students and grads from each school, at least one dedicated Quad staff member, and a faculty advisor with relevant subject-matter expertise. Teams work closely with business and government executives to build valuable solutions to the specific issues these organizations have asked the Quad to address.
This spring, the Quad will oversee the following projects:
Janska, a clothing manufacturer in Southeast Colorado Springs, is working with the Quad to develop a complete product identity and marketing framework for its "Clothing that Comforts" product line. The Quad team will conduct focus groups, interviews, and other market research to ultimately deliver refined messaging and a concrete go-to-market strategy to the company to boost sales.
Altia, a growing graphical user interface company headquartered in Colorado Springs, is working with the Quad to finalize a sales and demonstration package for a new data product it is developing. The Quad team will allow the company to bring the product to market up to six months sooner than originally planned. This team is being advised by CC Professor of Economics and Business Dan Johnson.
The City of Colorado Springs and El Paso County have partnered to work with a Quad team to improve access to social services in the greater metro area. The Quad team will examine several transportation-based strategies for improving access and will prioritize interventions on the basis of enhanced service delivery and cost efficiency. This team is being advised by CC Assistant Professor of Economics and Business Kat Miller-Stevens.
"The purpose and structure of these teams is to guide our students to solutions that provide immediate value to our partners and for the students to gain valuable, market-ready experience," says Jacob Eichengreen, executive director of the Quad Partnership. "We're not going to deliver 'if we had a million dollars' ideas to our partners. We're going to deliver solutions that work."
"My role is to coach all students engaged in Quad projects, and to ensure the results we deliver meet the needs of the community and our partners," Adair says. "I believe that the most effective way to move our city forward is by bringing our students and young graduates from our area institutions together to create and implement new, innovative solutions to the issues our community is facing, big and small."