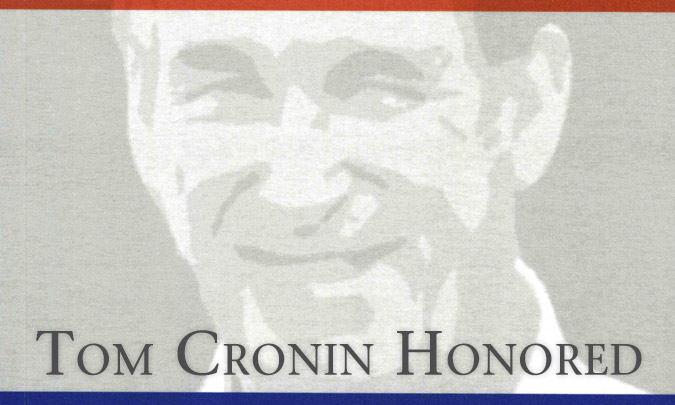 Colorado College Political Science Professor Tom Cronin was presented with an edited volume in his honor at the annual meeting of the American Political Science Association in San Francisco earlier this month.
The book, titled "The Quest for Leadership: Thomas E. Cronin and His Influence on Presidential Studies and Political Science," was in recognition of his significant contributions to the fields of political science and leadership.

The presentation was a surprise for Cronin, the McHugh Professor of American Institutions and Leadership at CC. The book, which focuses on presidential leadership and draws inspiration from Cronin's scholarship, features essays by a dozen prominent scholars of the American presidency and leadership, including CC Political Science Professor David Hendrickson. Also contributing essays to the book are Cronin's brother, Joseph M. Cronin, Bentley University president emeritus, and his son, Alexander D. Cronin, a physicist at the University of Arizona.

The book evaluates the leadership successes and failures of George W. Bush and Barack Obama, as well as Franklin D. Roosevelt, Richard Nixon, and Ronald Reagan and their handling of coalitions. It also looks at presidential leadership and authority, public leadership, U.S. world leadership, the role of the chief justices, and presidents as war-time leaders.
Michael A. Genovese, who has co-authored books and articles with Cronin, edited the book. In the introduction, Genovese writes "The contributors and I compiled this volume as a small way of saying a big thank you to Tom Cronin for all that he has done for us both in our fields of study and in our professions. Tom's impact on us and many others has been and continues to be enormous. There is no way we could repay him for his many kindnesses, but let this book serve as a down payment on our massive debt to him. And let us hope that Tom's example spreads throughout our discipline and our society."
Cronin is president emeritus of Whitman College (1993-2005) and a past acting president of Colorado College (1991). The author, co-author, or editor of more than a dozen books, including "Leadership Matters: Unleashing the Power of Paradox," which was named the Best Leadership Book at the 2013 International Leadership Association annual meeting, Cronin is recognized as an influential political scientist. He has won several teaching and scholarly awards, including the American Political Science Association's Charles E. Merriman Award for significant contributions to the art of government. Cronin is a frequent contributor to the Perspective section of The Denver Post, often co-authoring pieces with CC Political Science Professor Emeritus Bob Loevy and occasionally with students, as in a recent piece on "Go Set a Watchman."

"I am humbled by this tribute, and especially grateful to Colorado College and the Jerry and Anabel McHugh Endowments that have encouraged my scholarship in the fields of presidential, leadership, and American studies," Cronin said.
"The Quest for Leadership: Thomas E. Cronin and His Influence on Presidential Studies and Political Science" was unveiled at the President and Executive Politics Reception at the 2015 annual conference of the American Political Science Association.