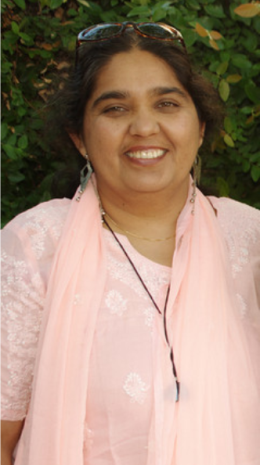 Colorado College Professor of Chemistry and Biochemistry Neena Grover has been selected as a 2018 Midstates Consortium for Math and Science Janet Andersen Lecture Award recipient. The award, established in 2008 in honor of Janet Anderson, a member of the Mathematics Department at Hope College, in Holland, Michigan, is presented annually to faculty members in the Midstates Consortium who have vigorous research programs involving undergraduates, are exceptional mentors for undergraduate research students, are engaged and skilled teachers, and create interdisciplinary research opportunities for undergraduate students.
In notifying Grover of the award, the director of the Midstates Consortium for Math and Science said that her nomination "described your impactful collaborative research program with undergraduates, the creative and rigorous approaches you have taken in the classroom to facilitate student learning, your exceptional role as a mentor for biochemistry and molecular biology students, and the involvement of your students in community outreach."
As a recipient of the award, Grover will be a speaker at the Consortium's 2018 Undergraduate Research Symposium in the Biological Sciences and Psychology, to be held at the University of Chicago in early November.
The materials submitted by CC nominating Grover for the award note that she incorporates community-based learning in her biochemistry II course: "The traditional topics on 'information transfer' (DNA/RNA) are not just learned as book topics, but also as concepts that are important in understanding HIV/AIDS transmission, prevention, and treatment." Grover "has built a relationship with the Southern Colorado Aids Project (SCAP) office in Colorado Springs, which regularly engages students from Professor Grover's class to present a community presentation on these topics. This challenges her students to step out of their comfort zone and apply their conceptual learning into interdisciplinary community engagements."
The nomination also included several students' comments. Among them: She is "a creative and hands-on teacher who adopts a learning-centered pedagogy"; "very hands on, relating the material to different analogies or current day applications"; "the time spent working with others and solving problems really helped me learn how organic chemistry works"; and "her teaching style always keep the bigger picture in mind."
Additionally, the nomination notes that Grover's aptitude with students in the classroom is equally impactful in her collaborative research with students. "She has consistently mentored undergraduate research students in the past decade and has regularly published and presented with her students. Her department has been extremely successful in recruiting, retaining, and supporting the thriving of their majors and these successful outcomes are equitably seen across gender, ethnicity, first-generation demographic groups," states the nomination. "Grover's impact on the creation of this learning and research environment was integral on multiple levels - in her direct mentoring of the students, in her teaching and contributions to curricular development, and in her leadership in the department and the college."
In addition to students, Colorado College faculty members also praised her, with a faculty member of color saying, "She reached out to me soon after I arrived on campus and mentored me to navigate, as a minority woman faculty, the early pre-tenure years."
Grover recently was recognized by the Association for Biochemistry and Molecular Biology (ASBMB) for her service as an ASBMB Student Chapter advisor and a mentor for biochemistry and molecular biology majors at Colorado College. "Dr. Grover's support of the Colorado College chapter has allowed students to actively engage in science outreach and research," says the letter of commendation. "In addition to providing mentorship on campus, Professor Grover once told a group of faculty, 'The joy of science is really in doing it. It's really about having a sense of wonder. I want students to get an idea of why, as well as how one does research, and to see that they can ask and make progress toward answering complex questions.'"