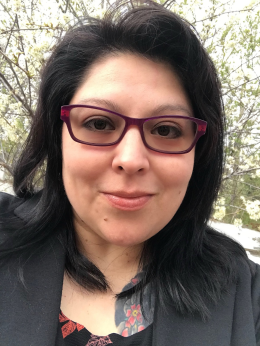 Colorado College Assistant Professor of English Natanya Ann Pulley has been named a winner of the 2017 Many Voice Project Competition. Her collection of short stories, "With Teeth," was selected as one of three winners from more than 450 submissions.
"With Teeth" is a collection about desperate, resigned, bewitching, and spiraling storytellers in crisis - and the webs they weave around themselves. Through magical realism, absurdism, or experimental and realist styles, the narrators in these pieces can sense what it means to be stuck in a story or genre, for characters to be held by inevitable choices and well-trod paths. In this way, "With Teeth" believes there are no new stories, only old stories told in new ways.
"My influences come from a slew of writers, genres, and lyrical sensibilities, from 'Tristram Shandy' to Carmen Maria Machado, from Italo Calvino to Roxane Gay," says Pulley. "I engage in a tradition of storytelling, in which the narrators are teasing out the idea of what it means to be part of a story. I believe this comes from hearing my Diné mom's stories, which were a lovely mess of Navajo traditions woven through family histories and her assimilation experience as part of a program that removed young Navajo children from the reservation to live with LDS families in Utah.
"Time was never linear in any of these stories and in the Diné way, there were no explicit morals or endings to these stories. Instead, she would gather her perspective of the world through these patchwork tellings. Narrative, throughout my childhood, was always fraught, unstable, nebulous, but also always housing many truths. Like my mom's weaving of stories, the ones in 'With Teeth' are a truth as well: a grappling of what it means to not only be human, but creatures accumulating memory, time, and aftermaths in order to make sense of a world."
Pulley says the collection comes from many years of writing short fiction between writing linked short stories collections, creative non-fiction, and a number of small projects.

"It's impossible for me to work on any one writing project - it doesn't make sense to me to put the kind of pressure I do on my work into one form at one time," she says. "I'm not certain that is how we live balanced and full lives either - we have to spread our work, energy, and passions around and allow projects (and dreams and relationships) be what they need to be. By doing so I feel I can concentrate and absorb myself in a project always knowing that the things that don't seem to fit in have another life in another project that may have my attention as soon as tomorrow."
Pulley, who is Diné (Navajo), of Kinyaa'áanii (Towering House) and Táchii'nii (Red Running Into Water) clans has published work in numerous journals including The Collagist, Drunken Boat, The Offing, McSweeney's, Waxwing, and As/Us. Her work has been anthologized in #NotYourPrincess: Voices of Native American Women, Exquisite Vessel: Shapes of Native Nonfiction, Women Write Resistance, and more.

A former editor of Quarterly West and South Dakota Review and a guest editor of the horror journal Black Candies: Gross and Unlikeable (a special issue with all female writers and artists), she is the founding editor of the forthcoming Colorado College online literary journal, Hairstreak Butterfly Review.
"With Teeth" will be published by New Rivers Press, located at Minnesota State University in Moorhead, in Fall 2019.