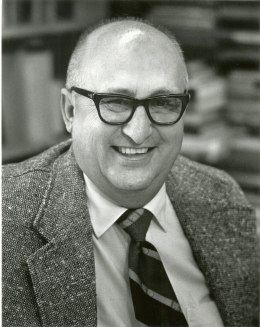 Colorado College Professor Emeritus of Economics Ray O. Werner passed away Saturday, March 17, at his home in Colorado Springs. He was 95 years old.
Werner left an indelible mark on CC: He co-founded the international political economy major in 1968, chaired the Economics and Business Department from 1956-77, was inducted into the Colorado College Athletics Hall of Fame in 1997, won numerous awards for excellence in teaching, and has two awards named after him, the Ray O. Werner Award for Exemplary Teaching in the Liberal Arts and the Ray O. Werner Thesis Award. Additionally, Werner was one of five Fellows in Law and Economics at Harvard Law School from 1965-67.

Werner arrived at the college at age 26 as an instructor of economics in 1948; his final day as a professor was June 1, 1987. In the intervening years he won the Sidney G. Winter Award for Outstanding Teacher of Economics and Business Administration, the Chapman Fellowship for Research in Economics, the Louis T. Benezet Faculty Rotating Fellowship, the Lucile and David Packard Professorship, the Burlington Northern Foundation Faculty Achievement Award, and the Gresham Riley Award, among others.

"When folks outside CC ask me what I majored in, I say 'economics.' When CC folks ask that question, I say 'Ray Werner,' " says John Chalik '67.

Werner also left his mark on athletics and community engagement. He served on the college's Athletics Board for 17 years and was the NCAA and WCHA faculty representative for 22 years. Named to both the WCHA and CC Athletics Hall of Fame, he also received the WCHA's Distinguished Service Award in 1986. The Ray O. Werner Classroom in the El Pomar Sports Center was named in his honor in the fall of 2012. Having never been to a hockey game before starting at Colorado College, he first fell in love with the sport because "it sounded interesting on the radio."

In the wider Colorado Springs community, Werner has served as president of the United Way, president of the Chamber of Commerce, and member of the Board of Directors of the Colorado Springs National Bank and United Bank of Colorado Springs. Additionally, he was a church deacon and co-founded the Colorado Springs Chess Club.
Werner was born April 21, 1922 in Edgar, Nebraska, the son of German farmers. He earned a scholarship to Hastings College, working as a janitor and living in low-income housing to pay his way through college, graduating with a BA in economics.
Werner joined the Army in 1943 and for nearly two years taught inductees who had failed the Army General Classification Test before he was deployed. As part of the Sixth Armored Division in Europe, Werner served on active duty until 1946, with his division seeing action at Normandy and assisting in freeing Allied prisoners and liberating the Buchenwald concentration camp. He was awarded the Combat Infantryman's Badge and the Bronze Star. Honorably discharged after the war, Werner remained a reservist with both the Army and Air Force until 1982, when he retired with the rank of major. Of his military service, he said that the "greatest significance was having convinced me that I not only had the ability to teach, but that it was the career I hoped and planned for."
He went on to the University of Nebraska, earning a master's degree in 1947. While at Nebraska, he won a highly competitive year-long fellowship to the University of Tennessee, where he studied economics. He then held research assistant positions at the University of Nebraska and the University of Illinois before moving to Colorado Springs with his wife, Donna Mae Hansen Werner, upon accepting a position at CC.
Werner's time at CC coincided with the adoption of the college's pioneering Block Plan in 1970. As an opponent of the plan, Werner demonstrated his ability for bridging divides when - following the Block Plan's passage with 58 percent of the vote from the Academic Program Committee - he said, "It's been a fair fight, I move to implement the plan."
Werner pursued his Ph.D. during summers between academic years of full-time teaching, earning the degree in 1960 and becoming a full professor in 1964. Four years later, he was instrumental in launching the political economy major, now known as the international political economy major. Said Werner, "Economics, without a recognition of the sphere of power relations in which it functions, is sterile."
Numerous former students have recalled Werner's legendary red pen. Says Bill Campbell '67, "Even the most carefully thought-out essay or exam question received constructive comments written in Nebraska 'Big Red' ink. That feedback is why so many of us learned to write, not in a literature class but in economics."
Chalik concurs. "As papers were returned to me, it seemed as if Ray's corrections and suggestions exceeded my own input. To this day as I write, I hear his voice telling me to 'clean it up, get rid of that unnecessary language, prove the point…' And as tough as he could be, his office door was always open and he would patiently devote as much time as necessary to help with a passage, a paper, or the dissertation."
Werner is survived by sons Brian and his wife Tina De Ponte of Centennial, Colorado; Blake '79 and his wife Ellen E. of Broken Arrow, Oklahoma; and Craig '74 and his wife Leslee Nelson, of Madison, Wisconsin; grandchildren Shelby Thayne of Olympia, Washington; Chelsea Werner of Baton Rouge, Louisiana; Taryn Werner of Telluride, Colorado; Kiel Werner and his wife Samantha of Jenks, Oklahoma; Shannon Werner of Denver; Riah Werner and her husband Bill Flexner of Abidjan, Cote d'Ivoire; and Kaylee Werner of Madison, Wisconsin. His great-grandchildren are Forrest Ray Thayne and Penelope Mae Thayne of Olympia, Washington; and Adelia Ray Werner and Annabelle Mae Werner of Jenks, Oklahoma.
In lieu of flowers, gifts can be made in his memory to the Ray O. Werner Professorship in Exemplary Teaching in Liberal Arts. Gifts can be made at www.coloradocollege.edu/give or mailed to Colorado College, P.O. Box 1117, Colorado Springs, CO 80901. Please reference the Werner Professorship with your gift.