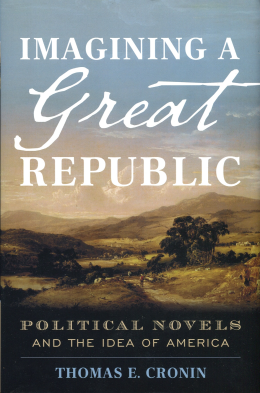 Retired Colorado College Professor of Political Science Tom Cronin will discuss his latest book, "Imagining a Great Republic: Political Novels and the Idea of America," at 6 and 9 p.m. MDT (8 and 11 p.m. EDT), Sunday, March 18 on C-SPAN's "Q&A." The show, hosted by Brian Lamb, founder and former CEO of C-SPAN, is a weekly program aimed at "highlighting today's most compelling thinkers in politics, media, education, and science."

Lamb's interview with Cronin was taped in Washington, D.C. in late February. In the hour-long segment, they discuss Cronin's book, "Imagining a Great Republic," which tells the story of the American political experiment through the eyes of 40 major novelists, from Harriet Beecher Stowe to Hunter S. Thompson to Edward Abbey. They have been moral and civic consciousness-raisers as the country has navigated the successes and setbacks, and the slow awkward evolution of the American political experiment.

The book, an exploration of American political literature, is a departure from Cronin's previous books on politics and the presidency. Among them are "Leadership Matters: Unleashing the Power of Paradox," "Colorado Politics and Policy: Governing a Purple State," and "The Paradoxes of the American Presidency."