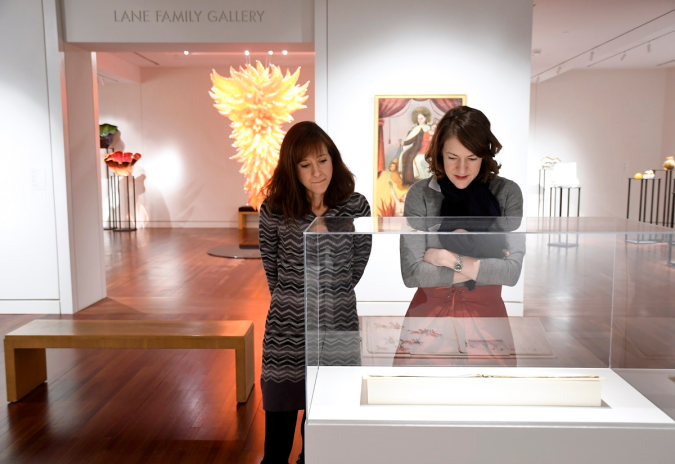 Sharon Corwin, professor of art, chief curator, and the Carolyn Muzzy Director of the Colby College Museum of Art, delivered a presentation on Nov. 3 titled "The Future of College Art Museums," highlighting the bridge the Colby College Museum of Art is building between academic and public communities. Many affiliated with the historic Colorado College-Fine Arts Center alliance attended the presentation and subsequent panel discussion, which was moderated by Rebecca Tucker, CC professor of art and FAC museum director .
Corwin praised Colorado College and the Colorado Springs Fine Arts Center for the innovative, collaborative model that is being developed between the two, noting that the partnership can serve a model for others in the field.
Corwin says the Colby College Museum of Art's primary goals are: to serve as a teaching resource for faculty and students; be a destination for visitors to the area; and contribute to the cultural landscape of the region. But, she says, "Academic engagement is the heart and soul of what we do."
The Colby College Museum of Art, founded in 1959, has nearly 8,000 works and a collection that specializes in American and contemporary art with additional, select collections of Chinese antiquities and European paintings and works on paper.
The Colby College Museum of Art actively is partnering with other regional cultural institutions such as the Asia Society and the Metropolitan Museum of Art, both in New York City, which is helping to raise the museum's national profile and level of scholarship, Corwin says.
The Colby museum also seeks to build professional experiences, mentorships, and networking opportunities for its students by offering internships at the museum as well as partnering with other institutions. Among those are the Art Institute of Chicago and the University of Glasgow. "We want our students to have rich professional experiences," Corwin says.
Colorado College's I.D.E.A. Space programming, now in place for more than a decade, already incorporates many of these themes. CC's program, begun in 2006, was designed from the outset so that exhibitions would be integrated into the teaching mission of the college.
The program has evolved over the years, says I.D.E.A. Space Curator Jessica Hunter-Larsen. "It has developed not so much through the establishment of a template, but through relationships with faculty to build understandings of their needs and how interaction with the visual arts can support teaching."
She notes that curated projects allow students to respond to exhibition themes, contribute original research, analysis, or creative work to the exhibitions. "In what I'm calling an iterative exhibition model, some exhibitions continue to evolve over the course of two blocks, as we add students' contributions. Exhibits are not 'done,' but evolve as layers of scholarship and multi-interpretations are added," she says.
Additionally, students often present their work to the public. "It holds them accountable to a larger audience then their professors, makes them really think through the subject material," she says. "You have to understand your topic thoroughly to describe it in 300 words or less to a novice audience."
Some projects comprise a large portion of work over a block. One example is "Atomic Landscapes," an exhibition that examined the nuclear history of the Southwest through the work of five contemporary artists. In the block prior to the Atomic Landscapes exhibition, students in Eric Perramond's class Nature, Region and Society of the Southwest researched nuclear-related sites in New Mexico and wrote exhibition text that was included when the exhibit opened. Perramond is director of the Hulbert Center for Southwest Studies and director of the State of the Rockies Project.
Highlighting the program's interdisciplinary nature, three other classes contributed to the exhibition during its run in Blocks 7 and 8: Associate Professor and Chair of Philosophy Marion Hourdequin's class Environmental Ethics contributed text; a Sound Art class created a sonic landscape inspired by the exhibition's theme and visual materials that was included in the exhibition; and students in Associate Professor and Chair of Theatre and Dance Shawn Womack's Participatory Art class interviewed senior citizens at a local community center about their memories of the bombing of Hiroshima or Cold War experiences, then performed monologues based on those narratives.
Another project highlighted in the presentation was a community partnership with Kris Stanec's Power of the Arts in Education class. Stanec, assistant chair and lecturer in CC's Education Department, says students work with area teachers to establish learning outcomes for an interaction with an IDEA exhibition. Students then develop and lead "tours" for area schoolchildren. The goal is to develop dynamic, interdisciplinary, inquiry-based interactions that meet teachers' specific learning objectives and fulfill common core requirements. Stanec hopes to demonstrate that learning in a museum can occur through means other than lectures, wall text, and head phones.
Says Hunter-Larsen, "these programs have been successful due to the experimental nature of CC's faculty, their willingness to take risks with teaching."
"There are boundless collaborative opportunities here," says Perramond. The alliance "can enrich faculty approaches in new ways. I'm excited about this because it re-engages us in what drew many of us to the liberal arts in the first place," he says.
In addition to Corwin, Hunter-Larsen, Stanec, and Perramond, panelists included Joy Armstrong, curator of modern and contemporary art at the Colorado Springs Fine Arts Center and Mario Montano, CC professor of anthropology.