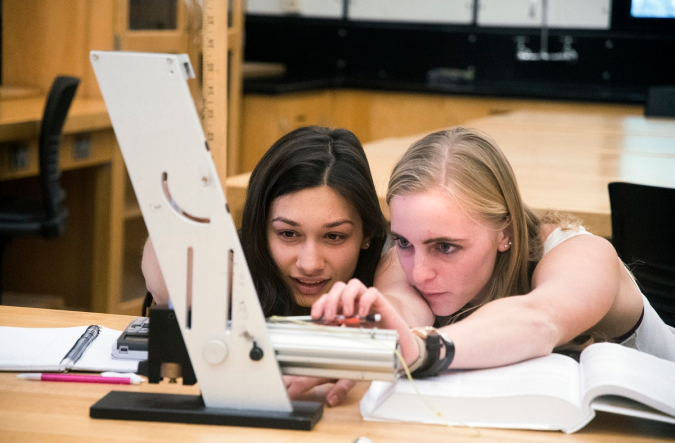 By Laurie Laker '12
The class is a small one, with eight students total - seven of whom are female - making up the summer course. In the lab, where students are conducting a motion conservation and pendulum velocity experiment, there's an air of quiet concentration. The crash and thud of pendulum and ball echo around the room, students taking notes and changing angles on the equipment.
"What this class tries to do is to work out how to reach the students who need this information," says Barbara Whitten, retiring professor of physics at Colorado College.
Her class, Physics for Life Sciences, is Whitten's last as a professor at CC. As the first female faculty member in the department, her career at the college remains a stellar example to all scientists and teachers across the liberal arts.
The class itself is one of the major requirements for physics students, but also students across a variety of science fields such as biology, chemistry, and others.
"Physics is the most basic of the sciences," she explains. "It deals with the major laws of science, like the conservation of energy and so on. It's the stuff that all scientists need to know, and the principles of scientific inquiry are most obvious in physics."
The class, delving into the practice and application of the laws of physics, demands that the students gain conceptual understanding of these laws, through in-class discussion and twice-weekly lab sessions.
Covering as much material in one block as most regular physics classes cover in a semester, what sets physics apart on the Block Plan is the immersive and interactive nature of the curriculum. Labs take place twice a week, often every afternoon during the school year, and students get hands-on experience from day one, using the lab equipment from the outset.
"Playing with the equipment in lab helps the students familiarize themselves with these laws and principles," Whitten adds. "We want students to see things happen up close, not just read about the processes but actually witness first hand."
Kat Baker '03, the lab manager, has been back at CC since 2015. Following her graduation in 2003, she spent time earning her graduate degree in Oklahoma and teaching in Dallas, before coming back to her alma mater two years ago.
"It's great to be back at CC," she says. "I loved it as a student, and to come back as a lab manager has been really fun." She's a calm presence in the room, circling and checking in with students regularly, asking "So, what's going on here?" or "Let's think about what you could change." The students are self-sufficient and driven to work things out, but a little guidance never goes amiss.
"It's by far the hardest lab we've done yet," says David Figel '20, a neuroscience major with a pre-med focus. "We've got to use a lot of previous material today, so having to recall and apply it to new concepts is really challenging."
Working in groups of two or three, "we're trying to determine the rotational velocity and angular momentum of the ball," explains Annabel Driussi '20.
"We've got two labs left, and then there's a final exam with a lab component."
The variety of backgrounds in the room is inspiring, but also the key reason for the course being taught. Providing a baseline of physics awareness informs a wide range of scientific disciplines and focuses.
This is certainly true for Erica Salhus '18, a biology major and CC women's tennis player.
"I want to move into physical therapy," she explains. "Given that this is a requirement for my major, but also a smart class for my future profession, it made complete sense to take this over the summer."
"It's all about teaching useful material in a way that's actually useful," Whitten says.
"There's always been a mismatch in the sciences with how various disciplines' introductory courses are taught, and in this class I wanted to address that imbalance - to make physics just as tangible and important for biology students as a basic biology class would be."
If the eager lab work and engaged students is any metric to go by, Whitten's class has done that and much, much more.