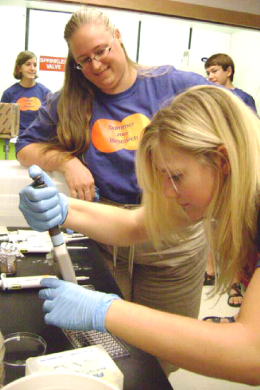 Phoebe Lostroh, Associate Professor of Biology and Director of Feminist & Gender Studies, will receive the Janet Andersen Lecture Award from the Midstates Consortium for Math and Science (MCMS), established in 2008.
MCMS, founded by the Pew Charitable Trusts in 1988, "seeks to improve undergraduate science and mathematics education by providing high-quality and flexible professional development opportunities for students and faculty," including symposia on undergraduate research, faculty development workshops, and exchange programs.
The Janet Anderson Lecture Award was established in honor of Professor Janet Andersen, a faculty member in the Hope College Mathematics Department until 2005, when she died tragically in an automobile accident. Anderson was "devoted to providing creative, high quality learning experiences for her students, and she herself was always learning as she was teaching. As Consortium Director, she looked for ways to connect with and support natural science faculty, both new and experienced." The award, then, honors faculty "who have vigorous research programs involving undergraduates, who are exceptional mentors for undergraduate research students, who are engaged and skilled teachers, or who create interdisciplinary research opportunities for undergraduate students."
The following statements are taken from a letter written by several of Phoebe's colleagues in nomination for this award:
"Phoebe has been a leading scholar, teacher, and mentor since her arrival at Colorado College (CC) in 2003. As a microbiologist, she has engaged dozens of students in cutting-edge research, while supporting their personal and professional development. Her tireless pursuit of external grants has provided countless opportunities for students to experience research first-hand. Phoebe is a magnet for students from groups under-represented in the sciences, who find in her a kindred spirit and fierce advocate. She has exhibited tremendous breadth by co-authoring articles with CC faculty in mathematics, physics, chemistry, biochemistry, and environmental science. Phoebe has dedicated herself to supporting undergraduate research and science education at the local and national levels, and has had a significant and positive impact on our campus culture. There is probably no other faculty member at the college who has done more to deepen and broaden the research experiences of our students in the past ten years."
"Those of us who have worked closely with Phoebe on research projects involving students have seen first-hand why she is such a sought-after and successful mentor. Phoebe's passion for science and high standards attract curious and ambitious students, while her approachability and deep concern for her students make all feel welcome. Phoebe has learned how to strike a balance between steering students towards feasible and meaningful research, while giving them the freedom to pursue their own questions and solve their own problems. Her students find a passion for the scientific process and in their pursuits become critical thinkers, confident speakers, and creative writers."