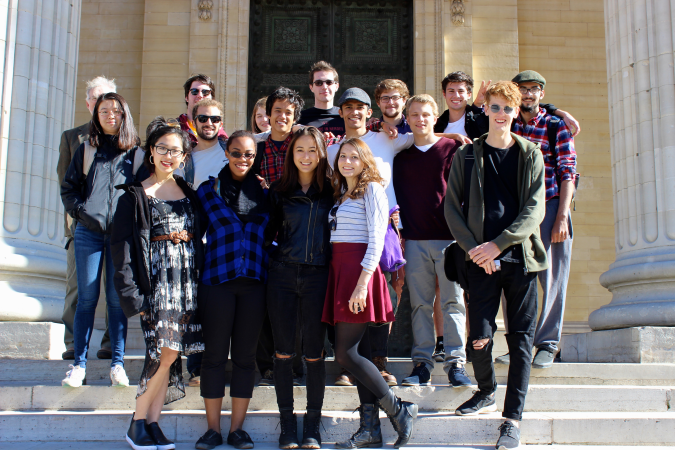 Seventeen students have joined Jonathan Lee and Dennis McEnnerney in Paris to investigate "French Philosophy in Context: 1930 to the Present." The course combines exploration of the major forms of recent French philosophy - existentialism, structuralism, and poststructuralism - with inquiry into the historical and cultural practices that have shaped the distinctive questions and approaches French thinkers bring to philosophy. While reading texts by major thinkers - Sartre, Camus, Beauvoir, Fanon, Lacan, Barthes, Derrida, Foucault, Cixous, and Iragaray, among others - the class has engaged Paris in a number of ways.
The first week, largely devoted to existentialism, included historical walks of central Paris to gain a sense of the history of France and the construction of its center of power; museum visits to explore the parallels between modern philosophy and art; and a morning visit to a dynamic lycée, or high school, to develop an understanding of the French education system.
During the second week, the course took on structuralism, which included a trip to the Pantheon after considering Lacan's provocative essay, "The Signification of the Phallus." The week was enriched by sessions with two philosophy professors from the University of Paris - Nanterre-La Defense, François Cusset and Patrice Maniglier, both of whom are concerned in their work with the implications of poststructuralism.
In the third and fourth weeks, the class will continue exploring the cultural significance of monuments, like the Eiffel Tower, and probing the philosophical implications of contemporary arts at the Pompidou Center. A third rising young scholar, Anne Sauvagnargues, will also spend an afternoon with the class, discussing her current philosophical research.
Meanwhile, the instructors have also engaging Paris on their own. Just before the class began, Dennis McEnnerney, with history professor Tip Ragan, gave a 90-minute lecture and discussion in French on American culture and global affairs to a group of 70 lycée students. And Jonathan Lee will give a public lecture in the third week of the block at the University of Paris - Nanterre-La Defense on "Philosophical Insurgency in Jean-Luc Godard."