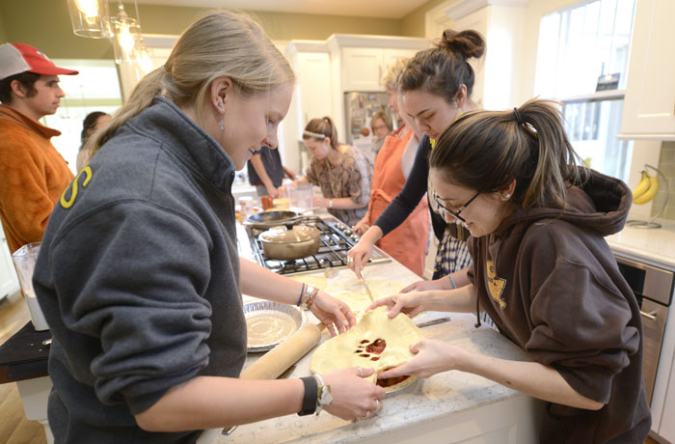 The historic Battle on Blake between Colorado College and the University of Denver ended in the Battle on Bake - with CC taking the heat and forking over five strawberry-rhubarb pies as the payoff in a friendly wager between the two schools. Prior to the outdoor hockey game at Coors Field last month, CC President Jill Tiefenthaler and DU Chancellor Rebecca Chopp took the long-simmering rivalry between the two schools to a new level - the kitchen.

The wager: Cupcakes for the Tigers if Colorado College won; strawberry-rhubarb pie for the Pioneers if the University of Denver won (which they did, 4-1).
Making good on CC's promise, seven students, all members of the President's Council, gathered at the end of Block 6 in President Tiefenthaler's kitchen to bake pies. The pie-bakers included Emma Wilson '18, Emma Whitehead '16, Isabella Bussian '18, Mac Gustafson '16, David Andrews '18, Michelle Cordell '16, Erin Harty '16, President Tiefenthaler, and Caitlin Apigian, special assistant to the Board of Trustees. "It was an incredible experience," says Wilson. "Just hanging out, baking pies in Jill's kitchen! It was very fun."
Three students, Gustafson, Cordell, and Wilson, made the trip to Denver the following day, delivering the pies to the DU team in their locker room. "The hockey team was very impressed by the fact that CC students delivered the pies to them," says a member of the University of Denver's communications team. Regardless, expect the competition between the two teams, the second-longest continuous rivalry in Division 1 college hockey, to continue to bubble over.