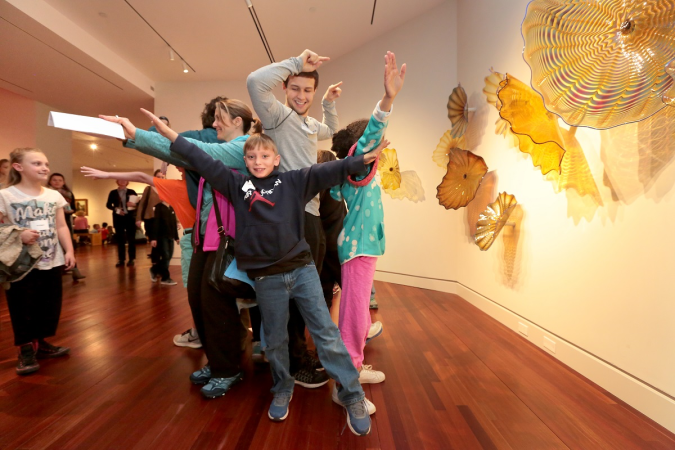 The Arts Business Education Consortium awarded Colorado College President Jill Tiefenthaler the Community Support for Arts Education award on April 18 in recognition of CC's Passport to the Arts program.

The award, sponsored by the Cultural Office of the Pikes Peak Region (COPPER), is given to a local or statewide elected official, or a local citizen who has contributed significantly to the development of arts education in the Pikes Peak region.

In presenting the award, Andy Vick, executive director of COPPER, said, "In an effort to maximize learning opportunities and incite a lifelong love and appreciation for the arts with area youth, the Colorado Springs Fine Arts Center at Colorado College launched the Passport to the Arts program for fourth-grade students and their families."
The program offers a free one-year family membership to the Fine Arts Center, one free children's ticket to each of the FAC's fall and spring family theater Music Room productions, 50 percent off tuition on select Bemis School of Art classes for the fourth-grade student, and access to activities in the museum specially built for fourth-graders and their families.
The program is one of many new offerings to come out of the implementation of the CC-FAC strategic plan, "Excellence, Access, and Collaboration." Since the inception of the program in September 2017, more than 600 families have signed up for the program.
"This one-of-a-kind program opens the door to in-depth arts education and cultural exposure for fourth-graders throughout the region," said Vick.
Accepting the award on President Tiefenthaler's behalf was Kris Stanec '88, MAT '89, director of museum education at the Fine Arts Center at Colorado College. The keynote speaker at the event was Emmy- and Annie-nominated voice actor Dee Bradley Baker '86, who attended CC on a Boettcher Scholarship and was the recipient of an honorary degree in 2006. He currently is recording the 13th season of TBS's "American Dad," as well as new episodes of "Sponge Bob," "The New Looney Tunes Show," and "Star Wars: Rebels."