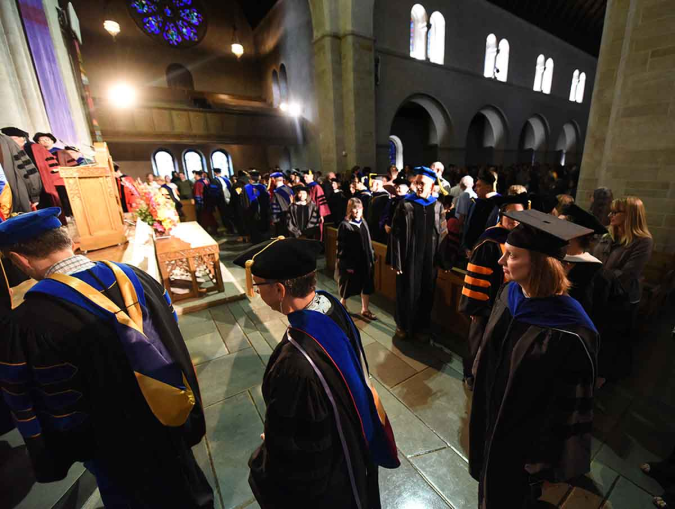 Colorado College welcomed the Class of 2020 and kicked off its 143rd academic year on Aug. 29 at Opening Convocation in Shove Memorial Chapel. The ceremony also included the awarding of honorary degrees to CC alumni Jennifer Zimdahl Galt '81, the U.S. ambassador to Mongolia; John Novembre '00, a computational biologist and 2015 recipient of a MacArthur Fellowship, also known as the "Genius Award"; and Jamie Torres '99, deputy director for the Mayors' Agency for Human Rights and Community Partnerships and director for the Denver Office of Immigrant and Refugee Affairs the City and County of Denver.
Colorado College President Jill Tiefenthaler gave the welcome address, and Annika Kastetter '17, president of the CC Student Government Association, gave the student welcome.
Novembre, who graduated cum laude with a degree in biochemistry and currently is an associate professor in the Department of Human Genetics at the University of Chicago, gave the keynote address, titled "Community and Wilderness: The Adventure of Learning." In it, he spoke of how adventure often parallels learning and research, where one can be challenged by confusion and uncertainty, and sometimes there appears to be no obvious way forward. "Liberal arts students are equipped to take challenges," he said, noting that they are "intellectual travelers" who cross disparate areas of knowledge and make connections between diverse fields of study.
Following Opening Convocation, which served as CC's First Mondays event for Block 1, students went to class until noon, then joined the campus community for an all-campus picnic on Worner Quad.