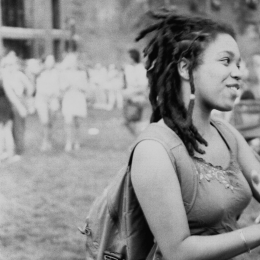 Njeri Summey (Feminist & Gender Studies '17) was featured on "Make It Plain" regarding her thoughts on the Planned Parenthood shooting in Colorado Springs on Friday, November 27, 2015. "Make It Plain," hosted by Matsimela Mapfumo (Mark Thompson), is "a political, human rights, and breaking news program that airs on Sirius XM Progress 127 on M-F from 6-9p EST."
During the episode-published on December 9, 2015-Summey claims, "When you're [in Planned Parenthood], you have a sense that you're in a targeted space […] I felt like I was fighting against something just by being there […] People who don't study feminism and who don't really know a lot about it are really quick to dismiss feminism and its goals […] a lot of people ask, 'What rights are you fighting for? Women have the same rights as men [legally]!' but I think these incidents are what tell us that we're looking at things that are much deeper than just laws. Planned Parenthood is allowed to be there, and abortions are legal in Colorado, but we do still have to worry about people trying to take away our choice as women because we are women. As a Feminist & Gender Studies major-and I only have half a degree at this point-in my humble opinion, it's things like this that tell us that feminism is actually really important."
Please click here to listen to the entire episode.