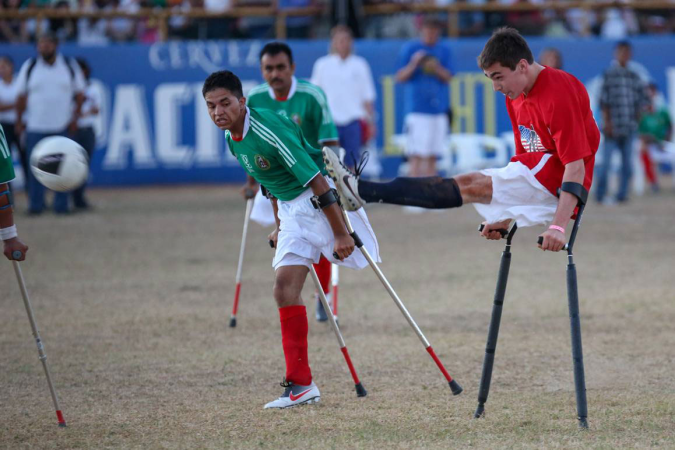 Nicolai (Nico) Calabria '18, born without a right hip and leg, will travel to Culiacan, Mexico, at the end of November to compete in the 2014 Amputee World Cup soccer tournament as a member of the U.S. National Team. Twenty-four countries will compete in the tournament, which runs from Nov. 30 to Dec. 7.
Calabria, who was first named to the team at age 17, is taking Block 4 off (an advantage of CC's Block Plan) to compete in the tournament, which is held every other year. He has played various positions in the past, but will start at center forward in the upcoming competition.
A graduate of Concord-Carlisle High School in Concord, Mass., he is majoring in education. Calabria started playing soccer "as soon as I could chase a ball," and was a center midfielder on his high school's varsity soccer team, scoring a goal that gained national attention when a video of it received nearly 2 million views on YouTube and was selected as "Top 10: Play of the Week" by ESPN's Sport Center. He has appeared in a television commercial and mini-documentary for Coca-Cola which chronicled his life-long passion for soccer, airing worldwide during the 2014 FIFA World Cup.
"I am unbelievably excited to represent my country by playing the sport I love," Calabria said. "Just like any young athlete, I dreamed of playing for my country on the grand scale. I may be playing in a different tournament than I had hoped, but as I grew older I became a little more realistic. For me, athletics 'evens the playing field,' so to speak, and it helps others to realize that despite disability, we still share the same passion for the sport. It shows that soccer is a universal language, one that transcends language, gender, age, and disability."
Amputee Soccer was organized circa 1980 and is played on a ¾-size pitch with seven players to a side. Field players are permitted to use crutches and may play the ball with only one leg. Keepers defend a 7-by-16-foot goal and may field the ball with only one arm. "The U.S. amputee team is on roughly the same level as the U.S .able-bodied team relative to the rest of the world which is to say that we are not likely to win the World Cup this year," Calabria said. "We are underdogs, but we haven't matched up against any of the best teams in the world yet, so we could still surprise people."
Before coming to Colorado College in August, Calabria played with the U.S. team in an exhibition match against an able-bodied team in Maryland. To level the playing field, the able-bodied team played the ball only with their dominant foot in the first half, and their non-dominant foot in the second half. The final score: 5-4 for the able-bodied team, with Calabria scoring all four goals for the amputee team.
At age 13 Calabria became the first person to ever summit 19,341-foot Mount Kilimanjaro on crutches. In the process, he raised more than $150,000 for the Free Wheelchair Mission, which provides durable lightweight wheelchairs for disabled Tanzanian's who could not afford them.
"I live my life to the fullest and I think many people take a lesson away from that: that we all have our issues and what really matters is how we approach them. I am proud to be confident in myself despite my apparent challenges, and I am honored that people have something to learn from that," Calabria said. Read more on Nico Calabria.